Bechamel is a great way of enhancing any home cooking repertoire. One of the five great French mother sauces, it forms the basis of many delicious and creamy recipes. Master this classic for a silky-smooth sauce to complement your favourite dishes.
Many people would be surprised at just how many dishes contain a creamy white sauce. Béchamel is the base for many classic sauces including cheese, parsley, onion and cream sauces. It's delicious when cooked in chicken and fish pies, and lasagnes and great when poured over vegetables. It's also perfect with parsley for fish and gammon and it's the base for many pasta sauces.
Easy white sauce
Here's a super easy white sauce that you can use in a multitude of meals.
To begin with, you need to mix a little cold milk (about 30ml) with a tablespoon of cornflour and stir until it forms a smooth paste. This will avoid having lumps in the sauce afterwards. Once the paste has formed, gradually mix in a further 300ml of milk.
Melt two tablespoons of Flora Buttery in a saucepan and add the milk/corn flour mixture. Cook on medium heat for 2-3 minutes, stirring constantly until it starts to thicken. It's important to stir all the time, since the last thing you want is a lumpy white sauce. Stirring also prevents it from sticking to the bottom of the saucepan.
Season to your liking with ground black pepper and nutmeg. Nutmeg is great; it will add that special flavour so typical to white sauce. Cook for 5 minutes over a low heat, until thickened and smooth.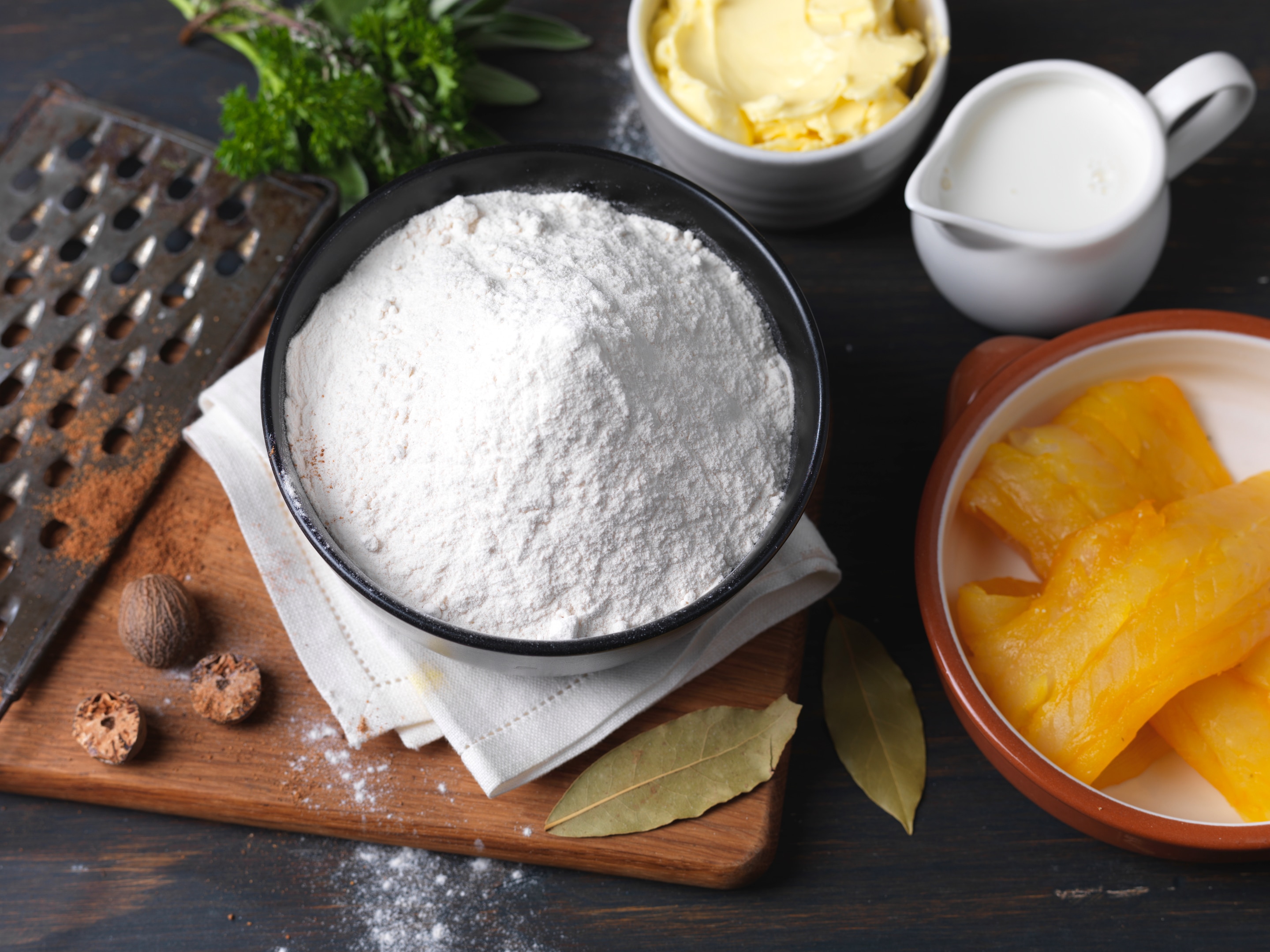 Classic Béchamel Sauce
Make the roux by melting Flora Buttery and combining with some flour in a very gently heated pan. Gradually whisk in the milk a little at a time, in order to thin out the roux slowly and evenly, avoiding lumps. Remove from heat, whisk in remaining milk before returning to the heat. Keep stirring constantly until thickened and smooth.
Remember, don't leave unattended for a moment or the sauce will burn. The more time you take adding the milk little by little and stirring really well the smoother your sauce will be. It takes time but the results are fantastic! If your sauce is lumpy don't worry, just pass through a sieve and place back onto gentle heat before serving.
Alternatively, for an easy lump free sauce why not use the all in one method: Simply put some milk in a saucepan, then add the flour and butter and bring everything gradually up to a gentle simmer, whisking continuously, until the sauce has thickened and becomes smooth and glossy.
Now that you have the sauce, there are many ways to include it in your cooking. Try stirring in a Knorr Vegetable stock cube or a Knorr Fish stock cube for some great added depth of flavour to your pasta and fish sauces. Try a Knorr Fish Stock Cube crumbled into your white sauce together with some chopped parsley to create the perfect sauce for your smoked mackerel.
Pasta Sauce
To make a super smooth pasta sauce just add 2-3 tablespoons of the pasta water to your white sauce, this will give a silky velvety texture to the sauce. You can then finish with some grated Parmesan cheese and herbs and seasoning of your choice.
A little inspiration
3 results
45 MINS

Easy

15 MINS

4

people

10 MINS

Easy

5 MINS

6

people

10 MINS

Easy

15 MINS

10

people
cookTime

difficulty

prepTime

servings

people