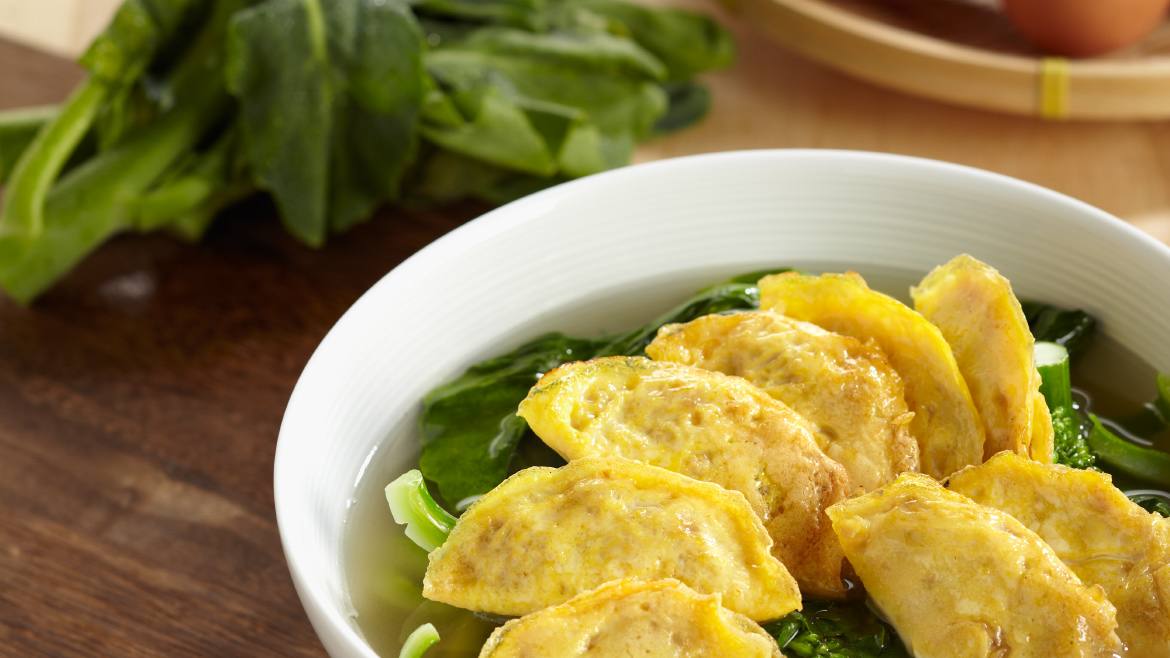 The egg soup is an indispensable dish in Chinese restaurants, but you can make your soup look even more prosperous by shaping your eggs into ingots like we did!
30 mins

Cooking Time

Medium

Difficulty

15 mins

Prep Time

4 People

Serves
eggs 4, lightly beaten
cornflour 1/3 tbsp, mixed with
3/4 tbsp of water
salt 1/2 tsp
pork mince 100 g
red chilli, minced
spring onion 1/2 tbsp, white portion only and thinly sliced
oil 6 tbsp
ginger 2 slices
Baby kailan 4 stalks
Marinade:
1/2 tbsp Hao Chi seasoning
white pepper 1/2 tsp
light soy sauce 1/2 tsp
water 1/2 tsp
cornflour 1/2 tsp
Soup:
Knorr chicken cube 1/2
water 1/2 litre
light soy sauce 1/2 tsp
white pepper a dash
sesame oil 1/4 tsp
After mixing corn flour with water, let it settle for 5 minutes. When the starch settles at the bottom of the bowl, pour excess water out. Keep the starch.

Marinate pork and let it rest for 20 minutes.

Heat oil and quick-fry pork for 2 minutes. Remove pork and drain off excess liquid.

Add starch and salt to egg batter. Beat well but avoid excessive air bubble.

Heat frying pan with 1 tbsp of oil.

Pour 1 tbsp of egg in the center of the frying pan. Swirl until it forms a circular shape. Fry for 30 seconds. Add a small dollop of meat on one side of the omelette.

Fold the other side of the omelette over and form a half-moon shape. Make sure the edges are sealed.

Remove and transfer to a serving plate.

Continue Step 6 until all batter is finished. Set ingots aside.

(For the Soup)Pan-fry ginger slices until they turn slightly golden brown.

Pour water and boil.

Add Knorr Chicken cube and simmer for 5 minutes.

Add baby kalian and ingots. Simmer for 3 minutes.

Add sesame oil and pepper.

Serve hot.
Related recipes
15 mins

Easy

2 mins

4

people

10 mins

Medium

20 mins

4

people

10 mins

Easy

15 mins

4

people
cookTime

difficulty

prepTime

servings

people