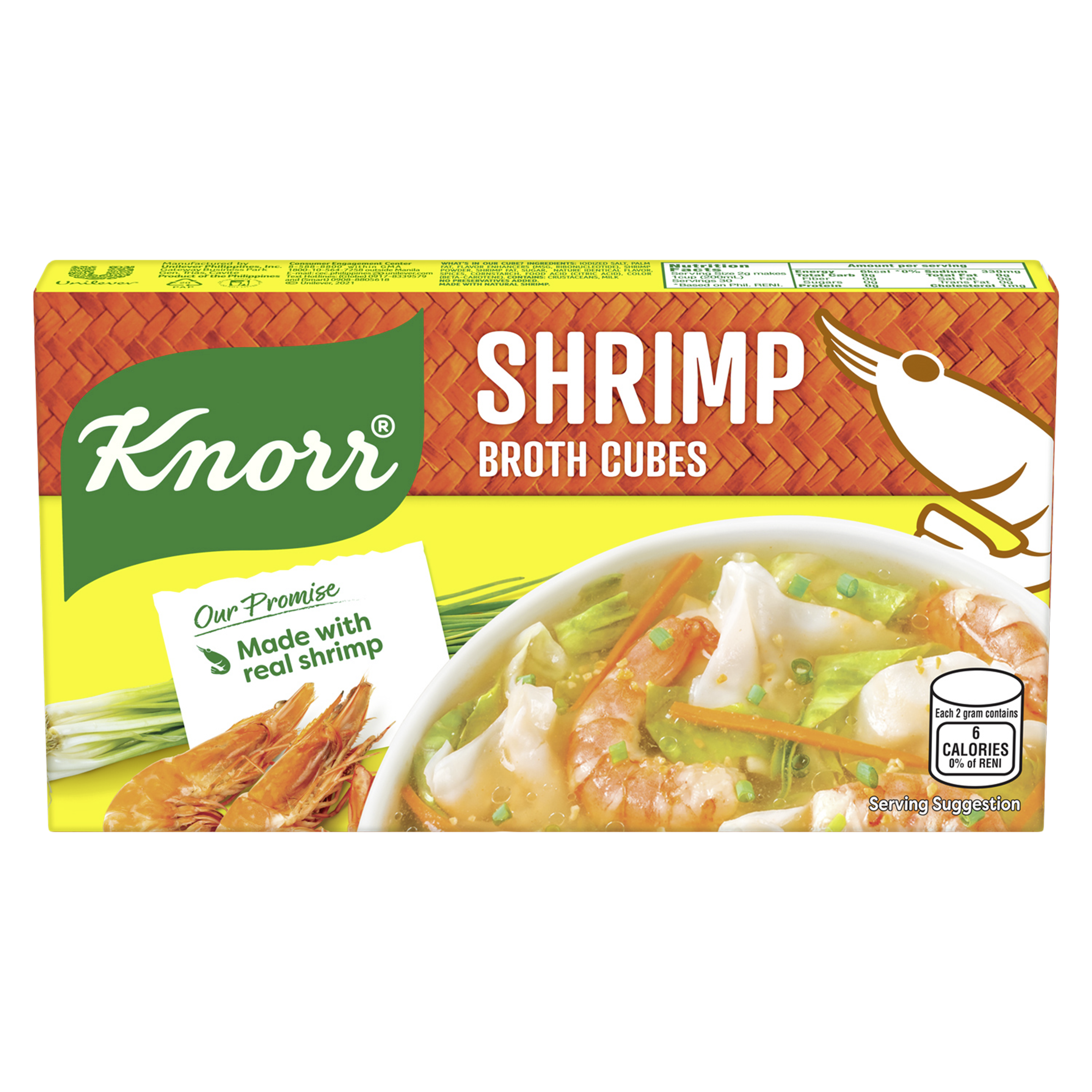 Knorr Shrimp Cube
Knorr Shrimp Cubes 
Cook a delicious dish for your family using Knorr Shrimp Cubes made with real shrimp. No need to spend too much on shrimp, because with real shrimp extract from Knorr Shrimp Cubes, your Shrimp Pancit craving will definitely be satisfied. 
Iodized Salt, Palm Fat, Flavor Enhancer (MSG), Shrimp Powder, Shrimp Fat, Cornstarch, Sugar, Nature Identical Flavor, Spices, Food Acid (Citric ), Color (Beta-Carotene) 

Contains: Crustaceans, Milk
| | Per 100g |
| --- | --- |
| Calories | 7 kcal |
| Fat | 0 g |
| Saturated Fat | 0 g |
| Salt | 348 mg |
| Total Carbohydrate | 0 g |
| Sugars | 0 g |
| Protein | 0 g |
How to use
For the best-tasting Shrimp Pancit Canton: 1. First, you need to get a pan and boil the pork in 1/4 cup water for 10-15 minutes or until the water dries up. 2. Next, pour in the oil and begin sauteing the pork until it turns brown in color. 3. Throw in the onions and garlic next and cook until they are tender. 4. Now, add the chicken liver and sauté them until fully cooked before adding the shrimps. 5. When the shrimp changes color, add the carrots, chicharo, cabbage and kintsay and sauté for a good 1 minute. 6. Since the meats and vegetables are done, let's now make the sauce. Pour the water, Knorr Shrimp Cube and soy sauce into the pan and allow these to simmer until the cube is dissolved well. Give this a nice seasoning of pepper. 7. We're almost there with only a few more steps. Take the meat and vegetables out of the pan and drain them in a strainer or colander before transferring them in a bowl. This ensures that the noodles will cook properly in the stock and that the vegetables are still firm and not overcooked as well. 8. With the stock still simmering, drop the noodles in. Stir it every once in a while. We need to move it around from time to time to let the noodles absorb all the flavours of the stock. If the noodles have absorbed all the liquid and it's still not yet tender, water may be added 9. Once the noodles are tender, transfer them onto a serving platter and arrange the cooked meats and vegetables on top. And then that's it! Our Pancit Canton is ready to be served. This dish is best served and paired with some calamansi and soy sauce on the side.
slide 1
slide 2
slide 3
slide 4
slide 5
slide 6
slide 7
slide 8
slide 9
Related recipes
This one-pot dish combines the rich and flavorful taste of beef, mixed with the fresh garden vegetables, cooked in the tamarind based soup.

60 MINS

Easy

15 MINS

6

people

This dish combines the flavorful taste of inihaw na liempo mixed with the tangy and rich texture of Knorr Sinigang sa Sampalok with gabi and fresh vegetables.

35 MINS

Easy

25 MINS

5

people

This simple dish uses the rich seafood taste of shrimp sautéed in the sweet and creamy Knorr Ginataang Gulay flavors, topped with garlic bits.

20 MINS

Easy

15 MINS

4

people
cookTime

difficulty

prepTime

servings

people
Frequently asked questions about this product