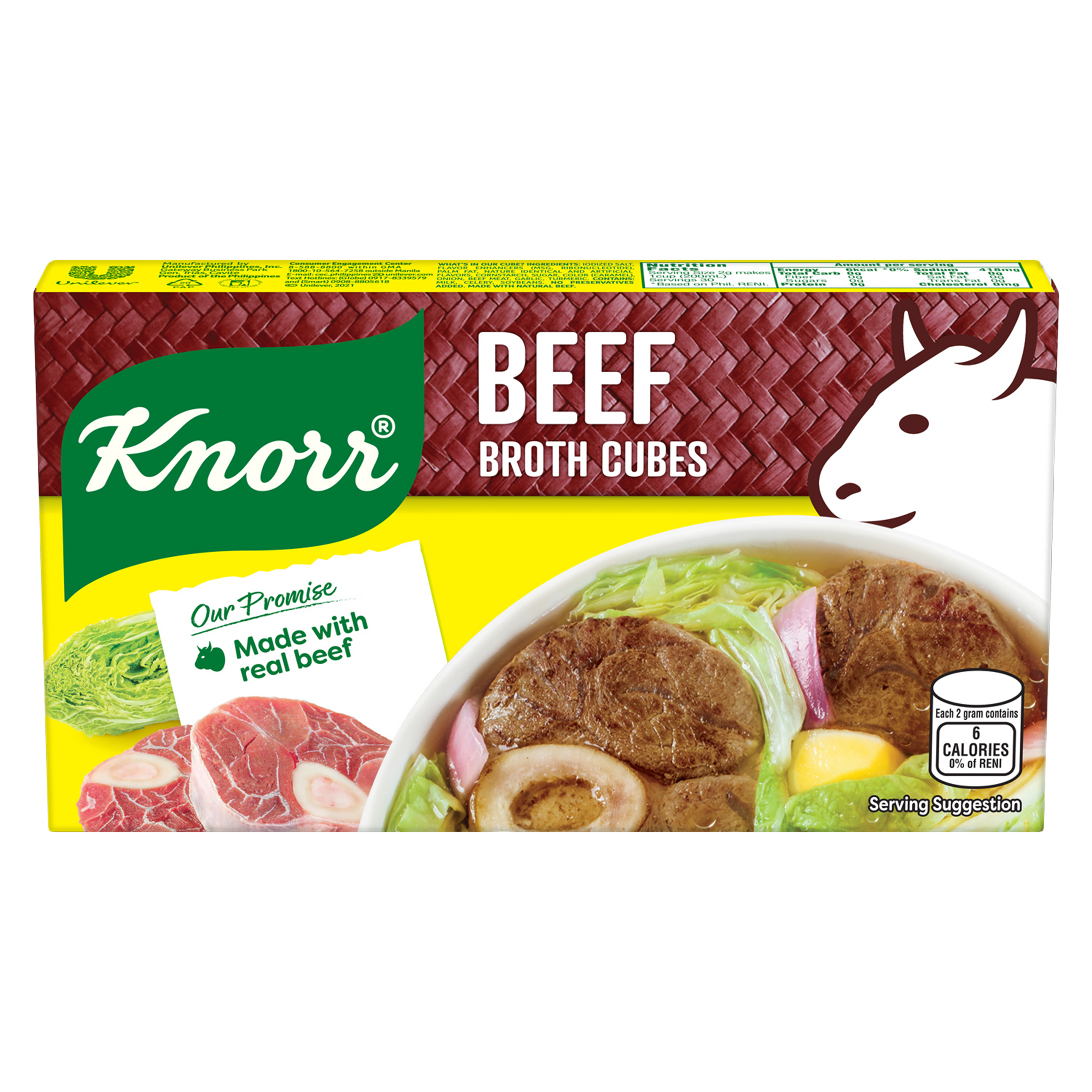 Knorr Beef Cube
Knorr Beef Cubes 
Made with real beef that has already simmered for a long time, Knorr Beef Cubes will definitely add delicious beef linamnam to your dishes. Pro tip: Adding Knorr Beef Cubes in your Beef Nilaga will balance out the sweetness of the corn and the intense flavour of the beef. 
Iodized Salt, Flavor Enhancers (MSG, Ribonucleotide), Palm Fat, Nature Identical Flavors, Beef (Fat and Meat), Cornstarch, Sugar, Hydrolyzed Vegetable Protein, Spices, Color (Caramel), Egg Powder, Food Acid (Citric) 

Contains: Milk, Celery, Soybeans, Eggs
| | Per 100g |
| --- | --- |
| Calories | 6 kcal |
| Fat | 0 g |
| Saturated Fat | 0 g |
| Salt | 394 mg |
| Total Carbohydrate | 0 g |
| Sugars | 0 g |
| Protein | 0 g |
How to use
For the best-tasting Beef Nilaga: 1. Prepare a pot or casserole that will be big enough to fit your 5 cups of water, half a kilo of beef, onions, corn and black peppercorn. Turn the heat up to high. When you see big bubbles in the water, it's time to cover the pot and turn your heat low. But when your fork does not stick to the meat when inserted, it means your beef is tender. This is a technique to check if the beef is done. 2. You may now throw in your potatoes and saba. Cover your pot and cook until these become tender. 3. Add in your Knorr Beef Cubes and stir well. Put in the leafy veggies: cabbage and pechay and cook for another minute. 4. Be the hero of the day as you serve this comforting meal to your family. Best to serve it with a big bowl of white rice and a little saucer of patis and calamansi.
slide 1
slide 2
slide 3
slide 4
slide 5
slide 6
slide 7
slide 8
slide 9
Related recipes
This one-pot dish combines the rich and flavorful taste of beef, mixed with the fresh garden vegetables, cooked in the tamarind based soup.

60 MINS

Easy

15 MINS

6

people

This dish combines the flavorful taste of inihaw na liempo mixed with the tangy and rich texture of Knorr Sinigang sa Sampalok with gabi and fresh vegetables.

35 MINS

Easy

25 MINS

5

people

This simple dish uses the rich seafood taste of shrimp sautéed in the sweet and creamy Knorr Ginataang Gulay flavors, topped with garlic bits.

20 MINS

Easy

15 MINS

4

people
cookTime

difficulty

prepTime

servings

people
Frequently asked questions about this product