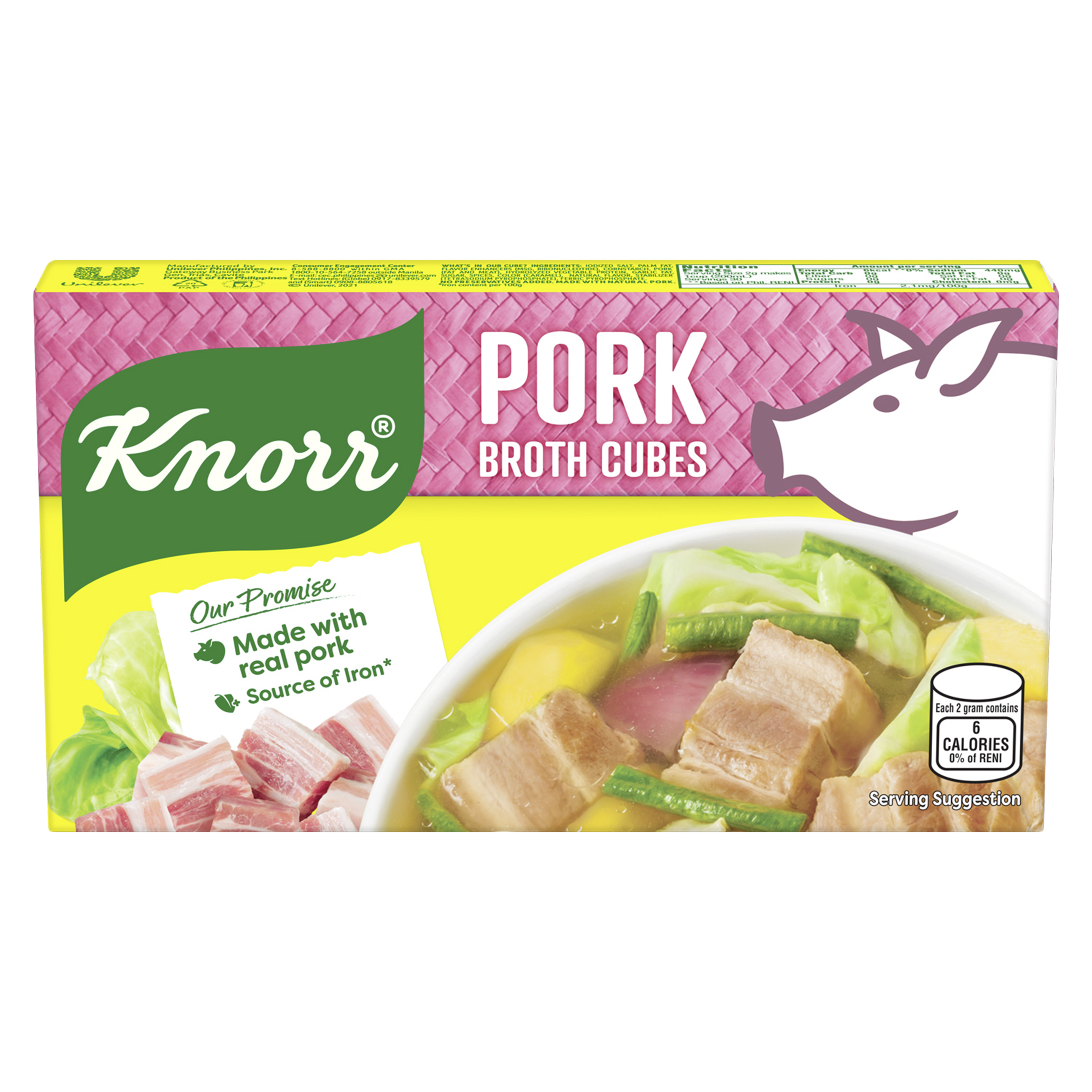 Knorr Pork Cube
Knorr Pork Cubes 
Made with real pork, Knorr Pork Cubes will definitely add delicious pork linamnam to your dishes. Pro tip: nutritious dishes (like Monggo) can also be delicious with the power of Knorr Pork Cubes! 
Iodized Salt, Flavor Enhancers (MSG, Ribonucleotide), Palm Fat, Sugar, Flavors, Pork (Fat and Meat), Hydrolyzed Vegetable Protein, Spices, Garlic Fat, Egg Powder, Cornstarch 

Contains: Cereals Containing Gluten, Crustaceans, Soybeans, Milk, Celery, Eggs
| | Per 100g |
| --- | --- |
| Calories | 6 kcal |
| Fat | 0 g |
| Saturated Fat | 0 g |
| Salt | 396 mg |
| Total Carbohydrate | 0 g |
| Sugars | 0 g |
| Protein | 0 g |
How to use
For the best-tasting Ginisang Monggo: 1. Since monggo is a seed, you need to wash the seeds first in water to get rid of the unwanted dirt they might have collected. And since monggo is a kind of dried bean, you need to soak monggo in water to soften them because seeds absorb water. You can soak monggo for a minimum of 1 hour but the longer you soak them, the less time you need to cook them. Make sure to remove the floating particles on top. You don't want any dirt on your dish. 2. Once your beans are soft enough you can start sautéing the garlic, onions and tomatoes in a saucepan for about 2 minutes or more. Here's a technique that most people do not know. Since your "aromatics" which are also known as your sautéing vegetables contain sugar, the longer you cook them, the more you develop flavour from caramelization. 3. The next step is the easiest because you just need to throw in the pork strips and saute until nicely browned. Drain the beans from the soaking water the add into your pot. Pour in 4 cups water, and the Knorr Pork Cube. Let this simmer until the beans can easily be mashed. Just a tip, if you want a thinner soup consistency, you may add more water. On the other hand, if you want a thicker soup consistency, simply lessen the amount of water or you may continue cooking until the sauce thickens. 4. We're almost there! You just need to add in the ampalaya and cook this for 2 minutes more before adding in the malunggay. 5. What a reward this dish brings to the table for Ginisang Monggo is a healthy and delicious meal waiting to be enjoyed by the whole family. TIP: Monggo is best topped with chicharon and paired with any fried dish like fish or liempo. Tip: If you're not a fan of ampalaya, use ampalaya leaves instead or just add more malunggay leaves.
slide 1
slide 2
slide 3
slide 4
slide 5
slide 6
slide 7
slide 8
slide 9
Related recipes
This one-pot dish combines the rich and flavorful taste of beef, mixed with the fresh garden vegetables, cooked in the tamarind based soup.

60 MINS

Easy

15 MINS

6

people

This dish combines the flavorful taste of inihaw na liempo mixed with the tangy and rich texture of Knorr Sinigang sa Sampalok with gabi and fresh vegetables.

35 MINS

Easy

25 MINS

5

people

This simple dish uses the rich seafood taste of shrimp sautéed in the sweet and creamy Knorr Ginataang Gulay flavors, topped with garlic bits.

20 MINS

Easy

15 MINS

4

people
cookTime

difficulty

prepTime

servings

people
Frequently asked questions about this product