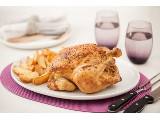 Roast Chicken With Bacon, Herb And Chilli stuffing
This roast chicken recipe is worth trying out for a juicy and flavourful chicken. Serve with potatoes and veggies.
1 H 30 Minutes

Cooking Time

Hard

Difficulty

15 Minutes

Prep Time

3 People

Serves
1 whole chicken
Oil
Streaky bacon
KNORR chicken cubes, crumbled
Breadcrumbs
2 cloves garlic
1 onion, finely chopped
Coarse black pepper
Crushed chilli flakes
Fresh thyme, chopped
1 egg
Water
On the chicken: cayenne pepper
Knorr chicken cubes, crumbled
8 Thyme sprigs
Water
Preheat the oven to 180 degrees.

Heat the oil in a pan and fry the onion and garlic.

Add the bacon and fry.

Add the herbs and spices, fry for 1 minute, then remove from the heat and add the breadcrumbs.

Add the egg and water, and then stuff the chicken in the cavity and under the skin.

Place in a roasting pan, and sprinkle the chicken with some cayenne pepper, the crumbled KNORR cube and the thyme sprigs.

Pour the water into the roasting pan and roast for 90 minutes, OR place the chicken in a pot with 500ml water, cover and simmer for 90 minutes.

Serve with potatoes and veg or salad.