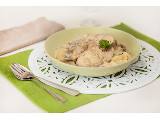 Marinating the chicken takes a little while but it's well worth it as it keeps the chicken moist and tasty.
30 Minutes

Cooking Time

Medium

Difficulty

10 Minutes

Prep Time

6 People

Serves
3 cloves garlic 10ml chopped
2 hot chillies
1 onion 160g
Ginger, peeled 30g
Fresh thyme 60ml
Ground allspice 45ml
KNORR chicken stock 16g
Brown sugar 20g 15ml
Coarse ground black pepper.75g 2,5ml
White wine vinegar 60g 60ml
2 limes – juice 50ml
Vegetable oil 60g 60ml
1 whole chicken portioned / 12 thighs 1.2 – 1.5kg
Process all ingredients except oil and chicken in blender or food processor until smooth. With blender running, slowly add oil to make a smooth paste.

Combine chicken and marinade in a large plastic bag; turn to coat. Seal bag and marinate in refrigerator for about 4 hours.

Remove chicken from marinade, discarding marinade.

Grill chicken for about 30 minutes or until chicken is thoroughly cooked, turning once. Chicken can be cooked over hot coals

Serve with rice, salad and your favourite hot sauce.