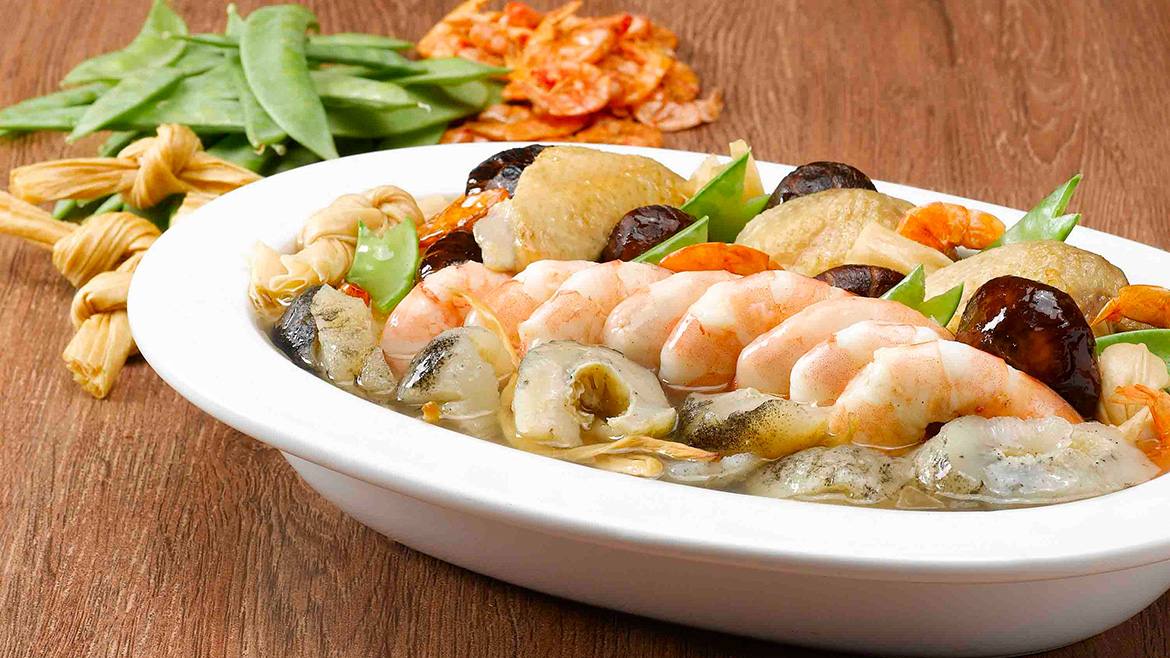 PROSPEROUS PEN CAI WITH CHICKEN-SCALLOP BROTH
A popular Chinese New Year dish in Singapore, Pen Cai was traditionally served to Emperor during the Song Dynasty.
25 mins

Cooking Time

Easy

Difficulty

10 mins

Prep Time

4 People

Serves
fresh ingredients
120 g white cabbage
180 g fresh sea cucumbers (pre-soaked to soften)
8 chicken wings (pre-fried to crispy)
8 tiger prawns
8 flower mushrooms (pre-soaked in warm water for 20 mins)
48 g dried flower shrimp
30 g flat green peas
1 abalone (optional)
250 g sliced roasted shduck (optional)
chicken - scallop broth
3 tbsp Knorr hao chi all-in-one seasoning
1 sprig onion bulb (lightly smashed)
1 tbsp red shallots (thinly sliced)
1 tbsp rock sugar
3 dried scallops
3 cups chicken broth
3 tbsp cornstarch
2 tbsp olive oil
chicken broth
2 Knorr chicken cubes
50 g rock sugar
2000 ml water
1 peeled green apple (cut to 4 parts and remove seeds)
To make the chicken-scallop broth, put KNORR CHICKEN CUBES, sugar, green apple with water together well in a pot and bring to boil then simmer for 3 mins.

Heat up a wok or pot with olive oil, fry the shallot to fragrant, then add in the spring onion bulb and continue frying for a minute.

Add in all of the fresh ingredients and pour in the chicken-scallop broth then bring to a boil and simmer for 15mins or until the cabbage is soft.

If prefer a thick broth base, you may add cornstarch until the desired thickness is achieved. Then, scoop the ingredients and arrange neatly as shown in the picture. We suggest for cabbage to be at the base of your bowl.

To cook the Pen Cai, preheat the oven (to 120 deg cel) or steam to cook directly on the stove for 30 to 40 mins.

For greater taste, always ensure your chicken wings are fresh and not frozen!
Related recipes
30 mins

Extreme

10 mins

4

people

10 mins

Easy

5 mins

4

people

60 mins

Extreme

10 mins

3

people
cookTime

difficulty

prepTime

servings

people