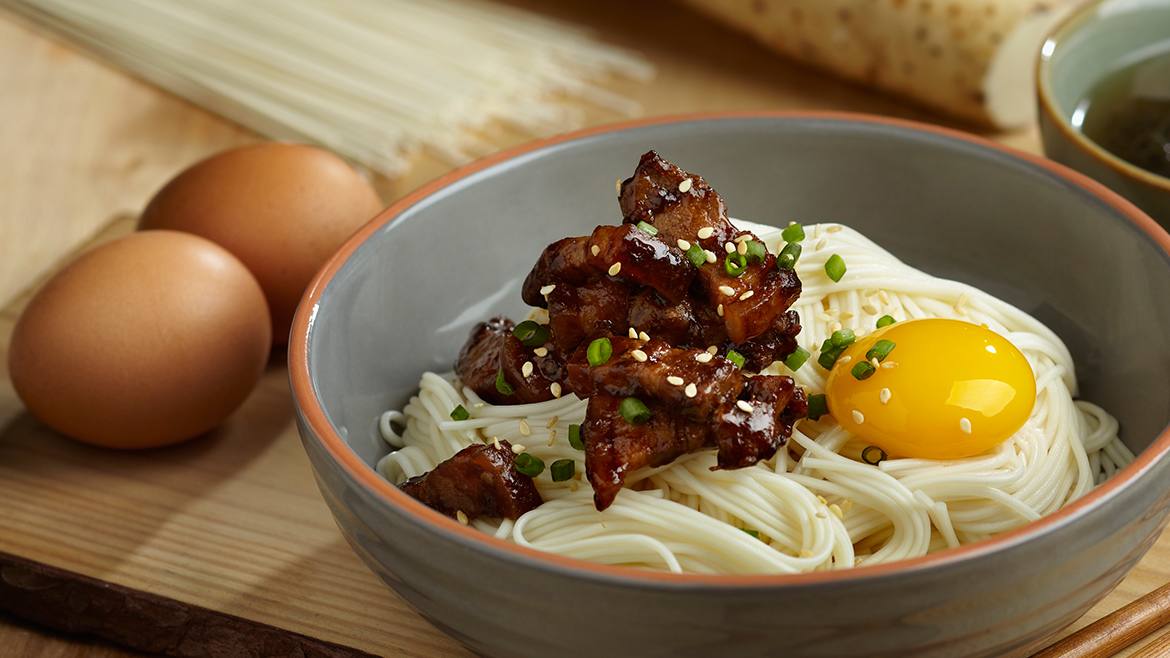 BRAISED PORK BELLY JAPANESE COLD NOODLES
Serve this dish with a generous helping of pork belly and top it off with a runny egg yolk to add a dash of color!
30 mins

Cooking Time

Medium

Difficulty

15 mins

Prep Time

4 People

Serves
Lor Bak / Kong Bak (Braised meat)
fresh pork belly joint - 750 g
pork skin - 100 g
five-spice powder - small pack
ground white pepper - small pack
deep fried crispy red onions - 65 g
sake - 6 tbsp
mirin - 2 tbsp
rock sugar - 40 g
Knorr Chicken Stock Cubes - 1/2
Hao chi - 1/2 tbsp
water 400 ml
premium dark soy sauce - 1.5 tbsp
superior light soy sauce - 4 tbsp
dry kombu (kelp) - small pack
bonito flakes - 4 g
Knorr Beef Stock Cubes - 1 kg
water - 800 ml
Assembling
Mountain yam / chinese
yam / Nagaimo - 250 g
spring onions - 1 bunch (prefer to buy my own)
white sesame seeds - small pack
4 fresh egg
ice - 1 bag
somen - 2 bags
1 tbsp pickled ginger - on the saucer
Prepare the meat by cutting into small pieces - same for the pork skin (blanched it first). In a medium size pot on medium high heat, sauteed the pork for 5-10 minutes till the fats been rendered.

Next add in five spice powder, hao chi & white pepper. Followed by rock sugar & saute for a minute or two. Then add in sake, mirin, soy sauce, & dark soy.

Continue braising on medium high heat for 5 to 10 minutes. Add in crispy shallots, water & stock cube. Half covered with lid, and braise on medium low heat for at least 1 hour. Stirring every now and then to make sure the bottom doesn't burn.

While braising prepare a pot of boiling water on medium heat. Add the dry kombu in and leave to a gentle boil for at least 15 mins, then add in bonito flakes - a quick blanch for the flavor, sieve the dashi & add in the knorr beef cube & continue to cook till stock cube no longer visible. Leave to chill and put into fridge/freezer.

Prepare the other ingredients for assembling. Grate the mountain yam into a bowl & set aside to chill. Chop scallions for garnishing. Cook the somen based on package instruction, after cooking, soak in ice water for a minute or two. Remove from ice water, and use a siever to remove as much moisture on the noodles as possible. Add in 1 tbs of oil from the (surface of the braised meat) to the somen to prevent it from sticking.

To assemble, lay a handful of somen right at the center of the bowl. ladle 1.5 tbs of grated mountain yam on the noodles, followed by 3 tbs of braised meat on the noodles. Add a raw egg yolk right in the center and garnish with scallions & sesame seeds.

To serve, bowl of noodles with chilled beef broth & pickled ginger on the side. There are 2 ways to eat this. Mix the noodles evenly and enjoy the taste of the noodles with mountain yam and the pork. Leave about half a portion left and add in chilled broth to finish up with the noodles.
Amount per Serving
| Nutritional values | Amount per Serving |
| --- | --- |
| Energy (kcal) | 2188.23 kcal |
| Protein (g) | 55.85 g |
| Sugar (g) | 32.81 g |
| Fat (g) | 168.36 g |
| Fibre (g) | 13.89 g |
Related recipes
40 mins

Medium

20 mins

4

people

15 mins

Easy

2 mins

4

people

15 mins

Hard

45 mins

4

people
cookTime

difficulty

prepTime

servings

people