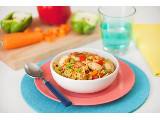 Rice and chicken will always be a household favourite. Try out this new recipe today.
1 H 15 Minutes

Cooking Time

Medium

Difficulty

15 Minutes

Prep Time

4 People

Serves
Water 1000g 1lt
KNORR chicken stock cubes 8g
Long grained rice 300g
Vegetable oil 15g 15ml
1 onion 160g
1 red pepper 90g
1 yellow pepper 90g
1 green chilli 3g
1 clove garlic, chopped 5ml
1 carrot 75g
Ground paprika 7g 15ml
Water 200g 200ml
KNORR chicken stock cubes 8g
Frozen peas 250ml
Coarse black pepper 1,5g 5ml
Chicken breast, finely chopped 300g
Place the water and 8g KNORR Chicken Stock cubes in a saucepan and bring to the boil. Add the rice, stir once, and return to the boil, then turn the heat down and cook until rice is done.

Heat the oil in a wok and stir-fry the red pepper, yellow pepper, chilli pepper, carrot and crushed garlic for 2-3 minutes.

Add the chicken and fry until cooked.

Now add the paprika and stir-fry for 2 minutes.

Add the cooked rice, coarse black pepper, frozen peas and stir in gently. Add 200ml ml water and 1 KNORR Chicken Stock cube and bring the heat up until water is hot.

Serve once the extra water is absorbed and the dish is hot.