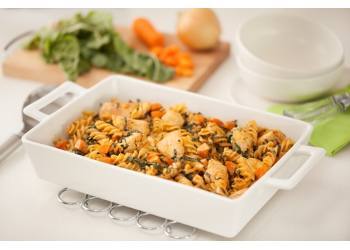 Pasta Wake With Chicken And Spinach
Take your pasta to the next level with an infusion of flavours.
35 Minutes

Cooking Time

Medium

Difficulty

15 Minutes

Prep Time

6 People

Serves
1 Onion, chopped
Oil
Pasta, raw
Chicken, cut into pieces
Carrots, peeled and chopped
KNORR chicken cubes, crumbled
Paprika
Cayenne pepper
Coarse black pepper
Dried herbs
Spinach, chopped
Milk
Water
Corn flour
Preheat the oven to 180 degrees.

In a pan, fry the onion and garlic until lightly browned.

Add the chicken and carrots and fry until the chicken is cooked.

Add the spices and fry, then add the spinach and fry for 1 minute.

Add the milk and water and bring to the boil.

Add the cornflour mix with water and allow to thicken.

Place the raw noodles in a bowl.

Pour the chicken mixture over and bake for 30 minutes.

Serve with salad.