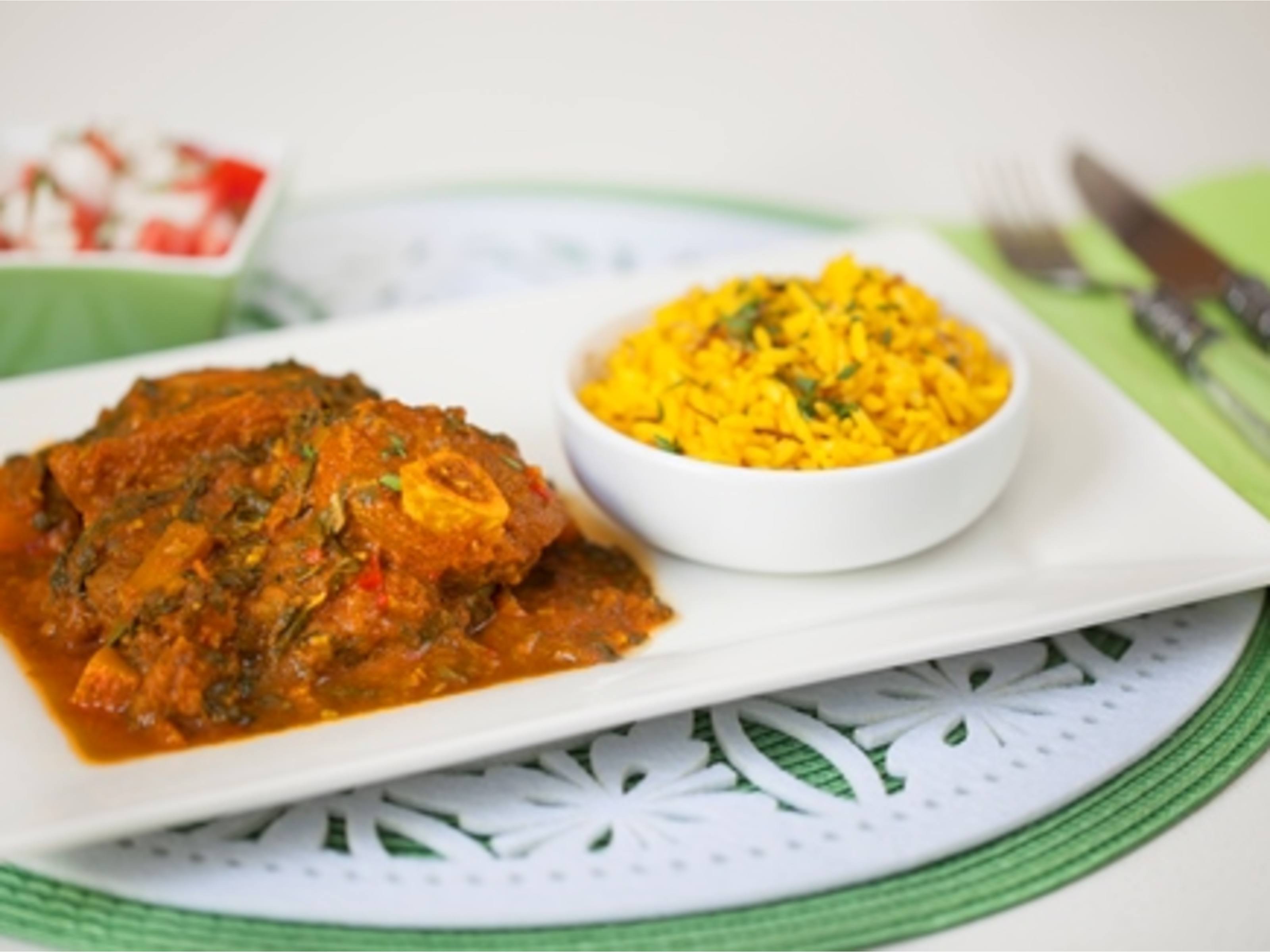 Warm up with this recipe. This hot and spicy beef stew is packed with yummy veggies and pairs well with basmati rice.
1 H 30 Minutes

Cooking Time

Medium

Difficulty

10 Minutes

Prep Time

5 People

Serves
Cooking oil 15g 15ml
2 onions 320g
1 piece fresh ginger chopped 5ml
2 garlic cloves, peeled and chopped 5ml
Ground coriander 2g 5ml
Ground turmeric 2g 5ml
Ground cumin 2g 5ml
Medium curry powder 10g 20ml
KNORR beef stock cubes 16g
Stewing beef, cut into cubes 1kg
4 large chillies 6g
Water 400g 400ml
3 tomatoes 270g
Tomato paste 50g 45ml
1 green pepper 90g
2 carrots peeled and chopped 150g
Spinach chopped (15 medium leaves) 100g 550ml
Coarse ground black pepper 1,5g 5ml
Low fat natural yoghurt to serve
Chopped coriander to serve
Rice to serve
Heat the oil in a large heavy-based saucepan over medium-low heat.

Add the onion and cook, stirring occasionally, for 15 minutes or until soft and golden brown.

Add the chopped ginger, garlic, coriander, cumin, curry powder, turmeric and black pepper to the pot and cook for 2 minutes stirring.

Add the beef and brown.

Meanwhile, blend the chillies, green pepper, tomatoes, tomato paste and water until smooth

Add to the pot and bring to the boil, then reduce heat to low and cook, covered, for 1½ hours or until beef is tender.

Add the chopped carrots and spinach and cook for a further 10 minutes

Top with yoghurt and sprinkle with coriander if desired.

Serve with steamed basmati rice.