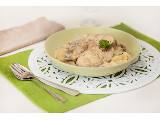 This creamy fish chowder is full of flavour and great to have at any time of day. Enjoy with homemade toasts.
30 Minutes

Cooking Time

Medium

Difficulty

10 Minutes

Prep Time

4 People

Serves
Margarine 30g 30ml
1 onion 60g
Flour 25g 50ml
KNORR chicken stock 16g
Crushed red chilli flakes 2,5ml
Milk 500g 500ml
Water 250g 250ml
White wine 250g 250ml
3 potatoes 520g
Firm white fish 400g
Salt 2g 5ml
Coarse ground black pepper 1,5g 5ml
Spring onions 250ml chopped
Heat the margarine in a large saucepan over medium heat. Add the onion and cook, stirring, for 3-4 minutes or until starting to soften (do not allow to brown).

Add the flour and cook, stirring for 1 minute, ensuring the flour does not brown too much on the base of the pan. Gradually add the milk, whisking until smooth and combined. Add the water, KNORR chicken stock and wine and continue to stir for another 3-4 minutes or until the mixture thickens slightly.

Bring to a simmer (do not allow to boil) and add the potatoes. Cook for 10 - 15 minutes or until potatoes have softened.

Add the fish. Cook for a further 5 minutes. Stir through the salt, pepper and chives. Serve immediately with some homemade crispy toasts.