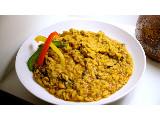 Ukwa (African Breadfruit)
This delicious recipe is popular among the Igbos and is made in form of porridge from fresh breadfruit.
60 Minutes

Cooking Time

Hard,Medium

Difficulty

15 Minutes

Prep Time

1 People

Serves
2 - 3 cups of Ukwa - depending on how many people you are feeding
1 cup of shredded smoked fish
Palm oil
Salt
Knorr cubes
2 - 3 pieces of ata rodo
Rinse the Ukwa, add water to the pot to cook it. You can use a pressure pot to save time or add potash to make it cook quicker

Once it has softened sufficiently, check the water level. If it has absorbed all the water, add a little more, just enough to top it, then add fresh pepper, palm oil, salt and 1 Knorr cube. Stir and just let it cook till the palm oil and pepper blend with the flavour of the Ukwa and the pale cream colour has changed to a brown shade of yellow. You may wish to mash it slightly with a wooden spoon to make it creamy like beans pottage.