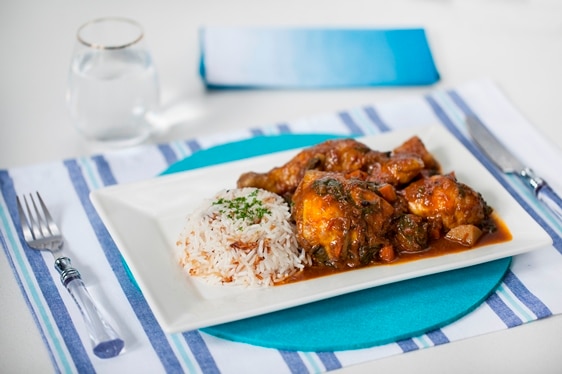 Knorr's Chicken and Vegetable stew is one of a kind. It goes well with rice or your choice of swallow.
50 Minutes

Cooking Time

Medium

Difficulty

15 Minutes

Prep Time

5 People

Serves
Cooking oil 15g 15ml
Whole chicken portioned or chicken pieces 800g
1 onion 160g
2 carrots 150g
2 chillies
3 tomatoes 270g
Water 250g 250ml
Turmeric 2g 5ml
Ground cumin 2g 5ml
Ground coriander 2g 5ml
Medium curry powder 15g 30ml
Coarse black pepper 1.5g 5ml
KNORR chicken stock cubes 15g
Spinach (15 medium leaves) 100g 550ml chopped
Corn starch 10ml
Water 20g 20ml
In a pot, brown chopped onion in oil.

Add the turmeric, cumin, coriander, curry powder and black pepper and fry the spices, stirring for 2 minutes.

Add the chicken pieces and brown while stirring.

Blend the chillies and tomatoes with the water and add to the pot.

Add the carrots, KNORR chicken stock and potatoes, reduce heat, cover and simmer for 30 minutes.

Add the chopped spinach and simmer for a further 5 minutes.

Serve with white rice.