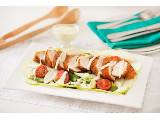 Chicken salad can be quite filling. It is also easy and quick to make.
30 Minutes

Cooking Time

Easy

Difficulty

15 Minutes

Prep Time

2 People

Serves
KNORR chicken cubes
1 chilli, chopped
Breadcrumbs
Fresh thyme, chopped
4 chicken breasts
Mayonnaise
2 Baby marrow, sliced
Salad leaves, mixed
Cherry tomatoes, halved
1 large apple, sliced and covered with lemon juice
Dressing: mayonnaise
Milk
Knorr chicken stock cubes
Lemon juice
Fresh thyme, chopped
1 fresh chilli chopped
2 cloves garlic, chopped
Mix the crumbled KNORR cubes with the chopped thyme and chopped chilli and breadcrumbs.

Coat the chicken with the mayonnaise, then dip into the crumb mixture.

Fry until golden brown and cooked.

Separately fry the sliced baby marrows.

While the chicken and marrow are cooling, mix all the dressing ingredients together.

Arrange the leaves on a salad platter, top with the sliced chicken, marrows and tomatoes and drizzle with salad dressing (mix all dressing ingredients together in a bowl).