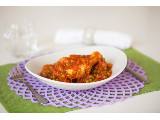 Chicken Curry with Potatoes and Peas (MEDIUM)
Have a treat for yourself and the family with the rich spices in this chicken curry recipe.
50 Minutes

Cooking Time

Medium

Difficulty

20 Minutes

Prep Time

5 People

Serves
Cooking oil, 1 whole chicken, portioned or Chicken pieces, 1 onion, Ground Coriander, Ground Cumin
Heat oil in a large saucepan on medium.

Slice the onion and fry until lightly brown

Add the turmeric, coriander, cumin, curry powder and pepper and fry for 2 minutes

Add the chicken pieces and allow to brown, stirring to prevent the spices from sticking

Blend the tomato, red bell pepper and chilli with the water

Add the tomato mixture to the pot with the cubed potatoes and KNORR chicken cubes, reduce heat, cover and simmer for 30 minutes or until the potatoes are done

Stir through peas and simmer for another 5 minutes.

Top with coriander.

Serve with rice and sambals.