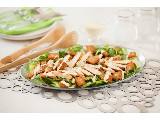 This salad is both yummy and healthy. Enjoy as a meal or side.
30 Minutes

Cooking Time

Easy

Difficulty

30 Minutes

Prep Time

4 People

Serves
Oil
Knorr Chicken cubes
Crushed Chilli flakes
Peri peri spice
2 chicken breasts, halved
Lemon juice
8 slices, Brown bread, cut in cubes
Cos lettuce, roughly chopped
Mixed lettuce leaves
Dressing: mayonnaise
Milk
Knorr chicken stock cubes
Lemon juice
Fresh thyme, chopped
1 fresh chilli chopped
2 cloves garlic, chopped
Gently heat half the oil in a small pan and add the crumbled KNORR stock – stir until dissolved.

Remove from the heat, pour into a large bowl, leave to cool and then add the chilli flakes, peri peri spice and 15ml of the lemon juice. Mix well.

Add the chicken breasts and leave to marinate for 20 minutes.

Pour the chicken and marinade into a pan and gently fry until done and lightly browned.

In a separate pan, toss the cubed bread in the remaining oil and fry until gold and crispy.

Leave the chicken to cool, then slice.

For the dressing, mix together all the ingredients until well blended.

Arrange the leaves on a platter, top with the sliced chicken and crispy bread and drizzle with the dressing.