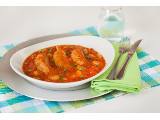 One Pot Sausage And Bean Stew
Soul food at its best! Get cozy with a plate of our sausage and beef stew on one of these cold nights.
1 H 10 Minutes

Cooking Time

Medium

Difficulty

15 Minutes

Prep Time

4 People

Serves
Cooking oil 15g 15ml
2 cloves Garlic, crushed
1 onion 170g
2 tins Butter beans, drained 820g
Crushed red chilli 10ml
Tomato paste 50g 45ml
KNORR Chicken stock cubes 16g
Brown sugar 30g 15ml
1 tin chopped tomatoes 410g
Water 150g 150ml
8 Pork Sausages 600g
Coarse black pepper 1.5g 5ml
Chopped thyme 5ml
Warm the oil in a large pot and brown the sausages on both sides (can be done in batches if needed).

Stir in the chopped onion and allow to cook for 5 minutes then add the garlic.

Add all the other ingredients to the pot, bring to the boil then reduce the heat and allow to simmer for 60 minutes.

The beans will start to break down during cooking and will help to thicken the sauce.

Serve with rice.