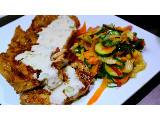 Grilled/Barbequed Meat And Mixed Vegetables
Easy and quick dinner recipes make life simple – there is no need to rush home and worry about preparing a gourmet feast for your family.
40 Minutes

Cooking Time

Medium

Difficulty

15 Minutes

Prep Time

2 People

Serves
Fresh meat,
Suya pepper,
Dry pepper,
http://www.knorr.ng/product/category/812486/stock-cubes Knorr Stock Cubes
Salt,
Curry,
Thyme,
Vegetable oil,
Mixed vegetables - Carrot, Cucumber, Cabbage, Lettuce, Sweet corn, Peas, Tatase, Green pepper, Mayonnaise - to drizzle on top.
Season the fresh meat with Suya pepper, dry pepper, curry, thyme, Knorr Stock Cubes and salt. Leave to marinate for 30 minutes.

Cook the meat over a hot grill or in the oven until the meat cooks through.

Heat up a tablespoon of oil in a frying pan. Throw in the mixed vegetables. Season with a little salt and fry for 1 - 2 minutes.

Serve the mixed veg with the barbecued meat. Drizzle mayonnaise to taste.