The history of Knorr® is a story of passion, exploration and food innovation.

High quality is our food philosophy – one that's been years in the making. Our story starts back in 1838, when Carl Heinrich Knorr opened the first Knorr® kitchen in Heilbronn, Germany, supplying chicory to the coffee industry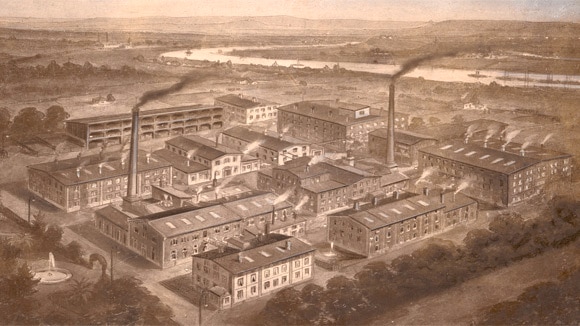 Natural
He began to experiment with drying vegetables and seasonings, to preserve nutrition and flavour, which led to the launch of the first Knorr® dried soups across Continental Europe in 1873.
This breakthrough ushered in a string of advancements, from the introduction of the nutritious 'Erbswurst', or pea soup, in 1889, to our pioneering Knorr® European sauce mix in 1908.
In 1912 we unveiled something really exciting; the first Knorr® Bouillon cube (bouillon is French for broth) which later became known as the Knorr® Stock Cube. Now families could enjoy delicious dishes at home without the need to make stock from scratch. This humble little product proved a hit.
Always searching for the best flavours
Carl Heinrich's passion and innovation lives on through our Knorr® Chefs and today Knorr® products are available around the world. In fact, Knorr® products are now enjoyed by 320 million people every day and still carry the iconic signature of Carl Heinrich Knorr, with whom it all began.
Today our kitchens are playgrounds to hundreds of real chefs – passionate experts working together to hone recipes that help you serve up tasty meals time and again. We pride ourselves on a genuine understanding of local flavours, providing great tasting favourites and helping you sample authentic cuisine from other cultures.
Knorr History – UK & Ireland
The Knorr Stock Cube was first introduced to the UK along with our packaged soups in 1949, quickly followed by Knorr® Aromat, a finely-balanced blend of herbs and spices, carefully selected to bring out the best in your cooking, which today is still as popular as ever.
Within twelve years the first Knorr factory in the UK opened its doors in Welwyn Garden City and by the 1970's, advancements in the industry, meant that we were able to improve the recipes for our chicken and beef Stock Cubes and introduce our Quick Soups. Flavours included Oxtail, Chicken, Tomato, Beef and Onion and Golden Vegetable, some of which are still available today in Ireland along with more recent additions like Mushroom and Cream of Chicken flavours.
Throughout the 80's the innovations kept coming, starting with a Stock Cube especially for our Scottish consumers – Mutton – and quickly followed with the national launch of a number of new products including Knorr Gravy Cubes, Marinade Mixes and Pasta Sauces. The latter of these celebrates the best of European co-operation having been developed in Britain, using materials from Heilbronn, Germany, and incorporated at Paisley into famous Italian recipes.
2000 marked an important milestone when Knorr® joined the Unilever family, a partnership that would see 41 new products launched in the UK over 'The Summer on Knorr', including Chicken Tonight.
The Naughties also saw the Knorr® Stock Cube - where it all began - celebrated again. In 2007 the chef Marco Pierre White revealed "I have used Knorr® Stock Cubes in my kitchens for 30 years. It is my secret ingredient". Later that year Marco became a brand ambassador for Knorr® and today he continues to champion the Knorr® stock range as a simple way to add instant flavour and help everyone from complete beginners to more experienced foodies get the most out of their cooking. The next two years would see further developments in the Knorr stock range; Knorr® Stock Pots were launched in 2008 followed by Knorr Reduced Stock Cubes containing 25% less salt than other products on the market in 2010.

In 2011 we waved goodbye to our Chicken Tonight and Ragu ranges when Unilever sold the UK rights to Symington's, but the Knorr family continues to grow and our delicious Knorr Gravy Pots were introduced in 2012 alongside our exciting new Gourmet Range.
A sustainable future
It's this commitment to providing you with the highest quality food that now leads us to a new future, one that embraces sustainability. We're investing in new, more efficient processes and embracing the principles of sustainability right through our business, from seed to spoon.