For many Filipinos, nothing is more comforting than a hearty bowl of beef bulalo on a rainy day. This classic ulam is a staple of the rainy season when the best remedy for low spirits is hot soup paired with steamed white rice and a flavor-enhancing sawsawan.
Traditional bulalo recipes use beef shanks and bone marrow simmered until the meat is fork-tender. Over time, the natural collagen and fat melt into the broth to give it a rich, silky texture. To offset that richness, you can add veggies like cabbage, potatoes, and pechay. These additions make it more nutritious, too.
Other than rice, noodles are also a great partner for beef shank bulalo. You can use fresh mami, lomi, or even instant ramen if that's what you have on hand. The added carbs complete the dish and make it more filling on its own. The recipe below calls for siling labuyo or hot sauce to give it a kick, but you can leave it out if you're spice-averse. The black peppercorns should introduce enough heat without necessarily making your soup spicy.
Ingredients for This Beef Bulalo Recipe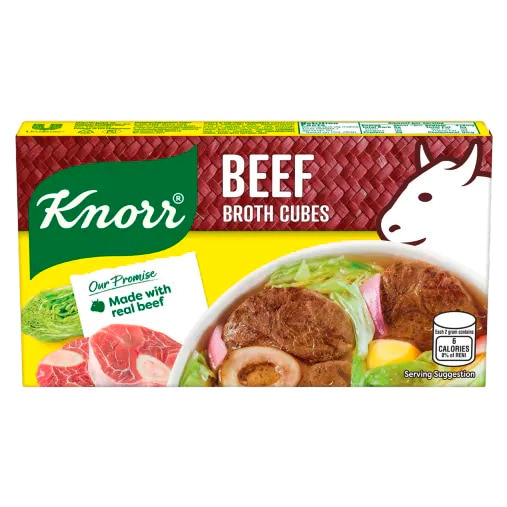 water (at least 4 cups)
2 pcs onions, quartered
1 head garlic, mashed
1 tbsp black peppercorns
¾ kg beef shanks
4 cups broth
2 pcs Knorr Beef Cubes
siling labuyo or hot sauce
3 pcs potatoes, peeled and quartered
1 bunch pechay, trimmed
½ kg noodles, cooked according to package directions
How to Cook Spicy Beef Bulalo with Noodles
Step 1
Fill a large pot with water, then add onions, garlic, pepper, and beef. Bring to a boil, then simmer until the beef is very tender. Add more water if needed. To keep the broth clear, skim off any scum on the surface.
Step 2
Once cooked, remove beef from the pot. Add Knorr Beef Cubes, siling labuyo or hot sauce, and potatoes. Simmer until potatoes are cooked through. Add pechay.
Step 3
Place cooked noodles in a large bowl for serving. Add cooked bulalo and veggies, then ladle in the hot broth. Serve with a dipping sauce of patis (fish sauce), calamansi, and more siling labuyo. Enjoy with white rice if desired.
Now you have the perfect beef bulalo for your next rainy day inside. Some recipes also call for corn on the cob, Baguio beans, and even taro root, which you can add for extra nutrients. To prevent the noodles from getting soggy, keep them separated from the soup until you're ready to eat. And lastly, remember to serve this dish hot! Otherwise, the precious fat in the broth will congeal and compromise its silky texture. Can't get enough of hearty beef soups? Try these recipes for nilagang baka or sour-savory kansi.