Don't worry when you hit snooze too many times. A can of pork and beans is always a reliable breakfast when you're in a rush. It's practical and versatile. You can eat it with rice, toasted bread, or pandesal. And when there are leftovers, its adaptability extends to lunchtime or merienda.
A pork and beans ulam ticks many boxes, but you can turn things for the better with this updated recipe. It only takes 20 minutes to prep, or even shorter if you use pre-cut Baguio beans. The secret ingredient is coconut milk, which lends the dish creaminess and a slight sweetness. You're sure to get your lola's nod of approval by serving this pork and beans recipe.
Ingredients for Pork and Beans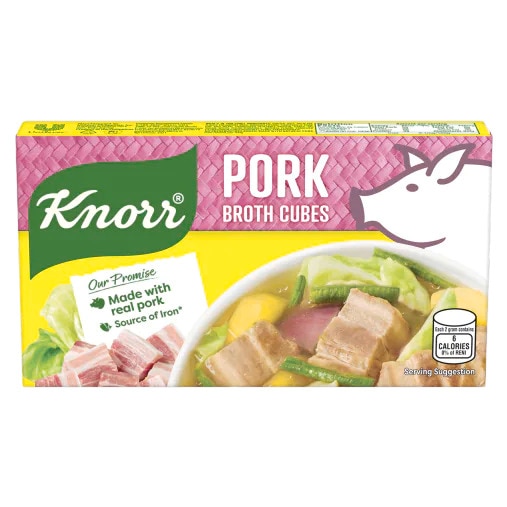 2 tbsp cooking oil
6 cloves garlic, minced
1 medium onion, chopped
2-3 siling labuyo, chopped (reduce to ½ or 1 if serving to kids or adults who don't like spicy food)
200 g ground lean pork
3 cups coconut milk
1 pc Knorr Pork Cube
2 medium carrots, diced
1 kg Baguio beans, washed and sliced into ½-inch pieces
salt and pepper, to taste
How to Cook
Step 1
Heat oil in a pan over medium flame. Sauté garlic and onion. Add siling labuyo and ground pork. Stir until meat is lightly browned.
Step 2
Add coconut milk and Knorr Pork Broth Cube. Bring mixture to a steady simmer. Add carrots.
Step 3
Once you see the oil separating from the coconut milk, reduce flame to medium-low and add Baguio beans.
Step 4
Simmer for 6 to 8 minutes or until the beans are tender yet still firm.
Step 5
Season with salt and pepper. Serve hot.
Tip: Remember to keep an eye on your stove. Cooking the coconut milk in high heat will break the sauce.
Pork and beans will always remind you of home. This upgrade is simple, comforting, and effortless to cook. If you're not keen on using Baguio beans, try this recipe with sigarilyas or sitaw. Or make a pork and black beans version. Your family will enjoy the twists you add to ordinary dishes. You can even serve this with palabok, talong surprise, and longganisa fried rice for a scrumptious lunch treat.