Every Filipino has a favorite version of adobong baboy. Some love it saucy with extra sarsa to drizzle over white rice, while others like it dry and nagmamantika. One person who enjoys all that liquid cooked down is actress and doting mom Jolina Magdangal-Escueta. She patiently reduces the sauce until the meat is fork-tender and coated with a rich brown glaze.
If you can't wait for the pork to slowly simmer on the stove, get help from a couple of time-saving kitchen equipment. Your first choice is the pressure cooker, which can tenderize your meat in 15 to 20 minutes. Pro tip: sauté the pork first before simmering. And make sure you add enough liquid to keep your ulam from burning. A Crock-Pot or a slow cooker is the alternative. It allows you to cook your dish unattended. Just add your ingredients to the pot and set the timer. Done!
Momshie Jolens' recipe doesn't stray too far from the traditional versions. Except she adds an extra ingredient that gives the stew a unique twist. Intrigued? Find out her secret and try it out yourself.
Adobong Baboy Ingredients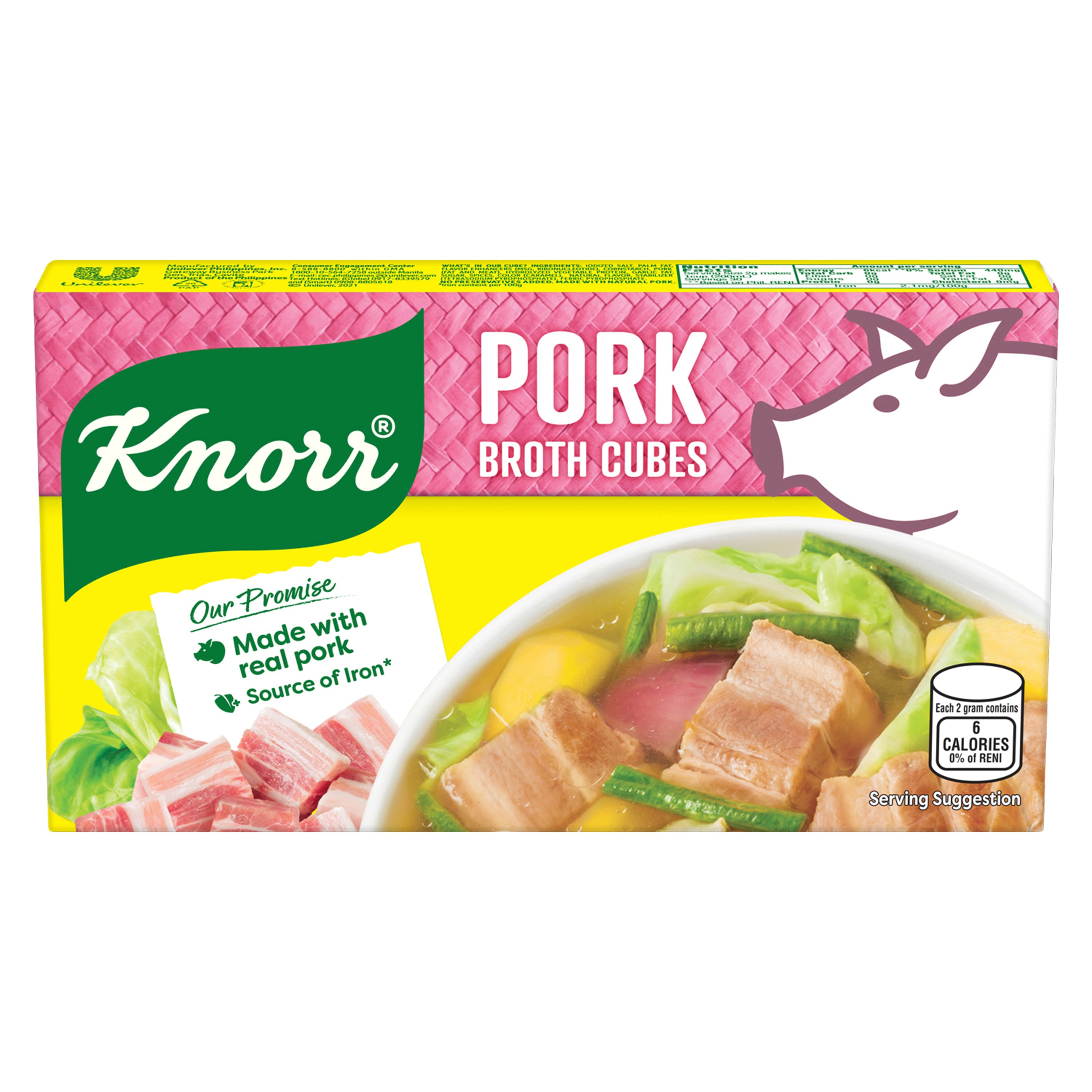 cooking oil
1½ heads garlic, minced
1 kg pork (kasim), cubed
1 tbsp peppercorn, crushed
1 pc Knorr Pork Cube
¼ cup soy sauce
2 tbsp Worcestershire sauce
1 tsp sesame oil
3 pcs bay leaves
2 cups water
½ cup vinegar
1 tbsp white sugar
1 tsp fish sauce
How to Cook Adobong Baboy
Step 1
Heat cooking oil in a large pan over medium-high heat. Sauté garlic until fragrant. Add pork, peppercorns, and Knorr Pork Cube. Mix well.
Step 2
Add soy sauce, Worcestershire sauce, sesame oil, bay leaves, and water. Bring to a boil.
Step 3
Add vinegar. Boil for a few minutes before stirring.
Step 4
Lower heat and simmer until the pork is tender. Once the liquid is reduced, add sugar and fish sauce. Cook until the fat is rendered. Serve hot.
Besides perfectly infused flavors, you want tender and juicy meat in your adobong baboy. Achieve this by choosing the proper pork cut. Many cooks agree that the belly is best, but the rump and shoulder (kasim) work just as well. Ask your butcher to cut the meat into one-inch cubes, which cook quicker than larger portions.
Adobong baboy na tuyo pairs well with nutritious soupy dishes like this easy misua. Pressed for time? Serve your ulam with one of Knorr's quick-cooking soups with bits of real meat and veggies. Miraculously got leftovers? Transform them into adobo flakes for pizza topping or taco filling.