In Luzon, beef pochero is one of many warm, tomato-based stews. It's distinctly sweet thanks to the addition of saba bananas (and, sometimes, canned pork and beans). The Visayan version is closer to a hearty beef bulalo or nilaga. Cebu-style pochero is also known as "pocherong Bisaya." It has a clear, meaty broth and contains a short list of common pantry ingredients. It's also much easier to cook, which makes it the perfect recipe to try on gloomy, lazy days.
Beef shanks are the star of this dish. They're lightly blanched, then simmered slowly until tender enough to fall off the bone. Some recipes include ready-made stock or bouillon cubes for an even beefier flavor. Add potatoes, pechay, saba, and corn for sweetness and texture. Like bulalo, you can enjoy your pocherong Bisaya with pungent patis (fish sauce) to pack umami in each bite. After just a few minutes in the kitchen, you get a bowl of pure beefy comfort.
Beef Pochero Ingredients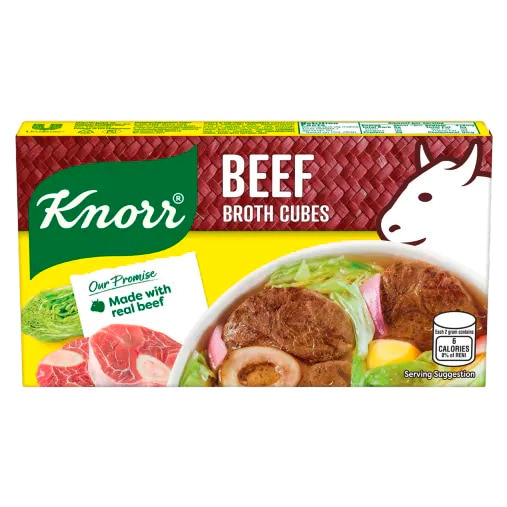 1 kg beef shanks, cut into serving pieces
2 pcs Knorr Beef Cubes
2 pcs onions, quartered
whole black peppercorns
6 cups water
2 pcs potatoes, quartered
2 pcs finger chilies
4 pcs saba bananas
¼ pc pechay, sliced
How to Make Cebu-Style Beef Pochero
Step 1
Prepare the beef shanks: Add shanks into a large pot. Fill with enough water to cover the meat. Blanch over high heat. Once boiling, discard water and set shanks aside.
Step 2
In another pot, combine Knorr Beef Cubes, beef shanks, onions, and peppercorns. Fill pot with 6 cups water and bring to a boil. Lower heat and simmer until beef is fork-tender.
Step 3
Add potatoes, chilies, and saba. Simmer until the potatoes are cooked through. Add pechay and simmer until soft.
Step 4
Serve hot with a side of patis, calamansi, and sliced chilies, if desired.
Make your beef pochero extra nutritious with other add-ons. Baguio beans, corn on the cob, and cabbage are traditional options. Some beef pochero recipes add lemongrass and ginger for a brighter flavor and subtle spice. Don't forget to taste the beef and broth before you serve! Since this dish has so few components to it, seasoning is extra critical, so make sure to salt your beef properly while it cooks. Looking for other classic beef recipes for rainy days? Try this comforting bulalo or a creamy version of caldereta.