Of all the top-notch porcine delights in Filipino cuisine, no dish is more iconic than lechon. But as good as it is, a whole roast pig also comes with a hefty price tag. The best alternative, especially if your family is clamoring for lechon for this year's Noche Buena? Make a lechon belly roll!
It features the best qualities of the classic roasted pig and none of its drawbacks. First, it's much easier to cook at home. And you get to focus on the juiciest (and most flavorful!) part of the pig: the liempo. This lechon belly recipe only calls for simple pantry staples, like garlic, onions, and umami-packed broth cubes for flavoring. The components sound simple, but the result is far from it. Each bite is super succulent, while the roasted skin offers just the right amount of crunch.
Enjoy it with steamed rice and a dipping sauce of your choice. You can go for a rich, liver-based sarsa or something brighter and more pungent to counter the fatty parts. Get your oven or deep-fryer ready – it's time to roll!
Ingredients for Lechon Belly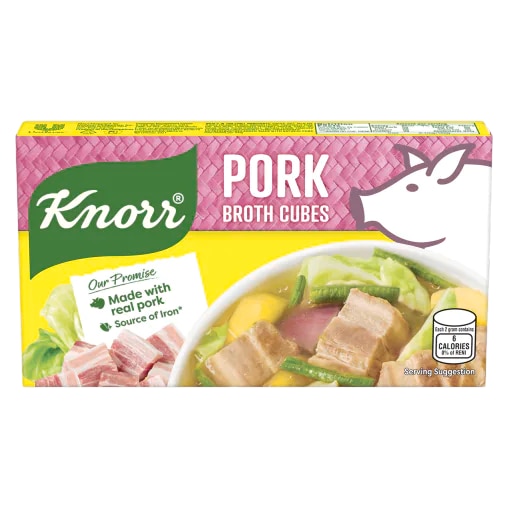 1 whole (about 2-3 kg) pork belly
¼ cup rock salt
½ cup chopped garlic
½ cup chopped shallots
1 tbsp cracked black pepper
2 pcs Knorr Pork Cubes, crumbled
4-6 pcs lemongrass stalks (bulb or white ends only), pounded
Knorr Liquid Seasoning, to taste
distilled white or cane vinegar, to taste
brown sugar, to taste
1 small red onion, finely chopped
1 siling labuyo (optional)
How to Cook Lechon Belly
Step 1
Rub pork skin with rock salt. Massage until salt is dissolved.
Step 2
Combine garlic, shallots, pepper, and crumbled Knorr Pork Cubes in a bowl. Flip pork and rub mixture over the meat. Arrange lemongrass stalks in the middle. Roll to enclose and secure with roasting or trussing ties.
Step 3
Make the sauce: Combine equal parts Knorr Liquid Seasoning and vinegar. Add sugar to taste and whisk to dissolve. Add red onions and siling labuyo. Let sit for at least 30 minutes.
Step 4
Pat pork skin dry. Cook in a turbo broiler, oven, or griller at medium-low heat for 1 hour. Increase temperature to high and cook for another 30-40 minutes or until the skin is crispy. Alternatively, deep-fry the lechon belly roll in hot oil over medium-low heat for 20 minutes. Gradually increase heat until the pork skin is brown and crispy.
Step 5
Let lechon belly rest for at least 5-10 minutes before slicing into serving portions. Serve hot with prepared sauce.
Another upside to this lechon belly roll is that you can count on the whole family to eat it to the last bite! But on the off chance that you have leftovers, you can transform them into other dishes. Lechon paksiw is always a reliable choice. You can also try sinigang na lechon for a warm and comforting option. If you have just one or two servings left, stuff them into a wrap with crunchy veggies. Perfect for a quick lunch!