Are you a big fan of curry? What about Thailand's tom yum soup? Then this laksa recipe is made for you. Consider it a cross between the two mentioned dishes but with extra oomph to excite your taste buds.
The comforting noodle dish is well-loved across Southeast Asia, where variations abound. Most recipes call for a base made of coconut milk, flavored with different aromatics, like galangal, lemongrass, or tamarind. Usual toppings include chicken and prawns, but mackerel and bean curd are also sometimes added. Some like their soup creamy, while others prefer it light and clear.
Are you wondering if you can recreate the dish at home? The answer is YES! An authentic laksa soup recipe only appears complex. But in truth, it's as simple as other noodle dishes. Once you master this version, you can eventually tweak it to your family's liking. Keep reading to find out what ingredients you need to buy and how to make it in under an hour.
Ingredients for Laksa Recipe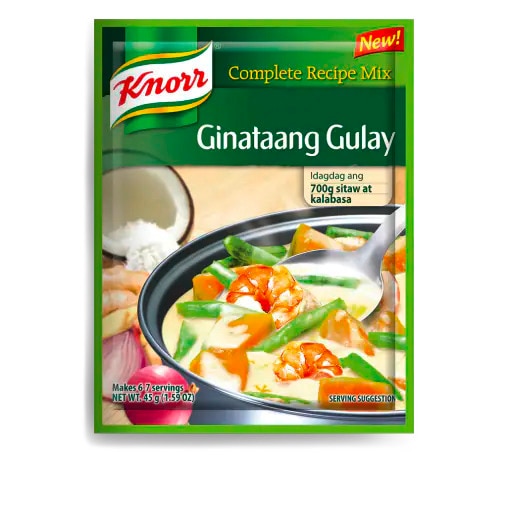 2 tbsp canola oil
2 tbsp curry paste
4 pcs shrimp, shelled and deveined
¼ cup tofu cubes
1 (29 g) pack Knorr Ginataang Gulay Recipe Mix, dissolved in 1 cup water
1 cup fresh milk
1 pc Knorr Shrimp Cube
1 stalk lemongrass, pounded
2 pcs kaffir lime leaves
100 g cooked egg noodles
100 g cooked vermicelli
2 pcs hard-boiled egg, sliced
¼ cup bean sprouts
fresh cilantro, for topping
How to Cook an Easy Laksa Recipe
Step 1
Heat oil in a pot over medium flame. Sauté curry paste until fragrant. Add shrimp and tofu; mix well. Add dissolved Knorr Ginataang Gulay and bring to a boil. Lower heat to simmer.
Step 2
Once mixture is thick, add milk, Knorr Shrimp Cube, lemongrass, and kaffir lime leaves. Simmer for 2-3 minutes. Keep warm.
Step 3
Divide noodles into individual serving bowls and fill with soup. Garnish with tofu, shrimp, eggs, bean sprouts, and cilantro. Serve hot.
[Article text]
It's also possible to make a laksa recipe for Pinoys! Other home cooks like adding bagoong to up the soup's umami taste. Veggies like cabbage and pechay are inexpensive ingredients you can include. You can even top this laksa recipe with crispy adobo flakes. Don't forget to pair it with chicken satay, roti, or crispy shrimplets to complete the experience.