Fried fish and meats feel bitin when you eat them without a side of veggies. For some, fresh lato ensalada with bagoong will complete the picture well enough. Others prefer to accompany their mains with a plate of chopsuey, pinakbet, or spicy laing. But it's not fair to relegate these dishes to sidekick status! A classic laing recipe, for instance, is an ulam you can serve with or without pork chops, daing na bangus, or fried tilapia.
Sure, buying ready-to-eat bottles is convenient, but nothing beats a freshly made version using an authentic laing Bicol recipe. Try this one and you'll realize that the Bicolano favorite isn't hard to do. And those extra steps are worth it when it comes to flavor.
Ingredients for Ginataang Laing Recipe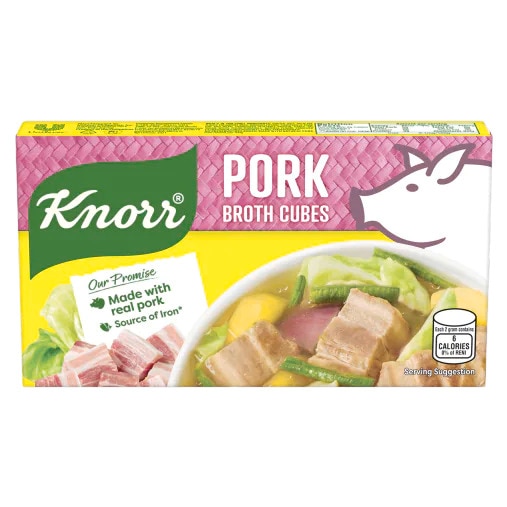 4 cups shredded dried gabi leaves
2 tsp oil
1 large pc onion, chopped coarsely
3 cloves garlic, chopped finely
1 tbsp ginger, crushed
1 cup sliced pork
1 cup coconut milk (second extraction)
2 pcs long green chilies
1 pc Knorr Pork Cube
½ cup coconut milk (first extraction)
How to Cook Laing
Step 1
Wash dried gabi leaves multiple times, then squeeze out any excess liquid. Set aside.
Step 2
Heat oil in a 1-quart pot over medium flame. Sauté onions, garlic, and ginger for 2 minutes or until fragrant. Add pork and cook until browned.
Step 3
Add coconut milk (second extraction), chilies, gabi leaves, and Knorr Pork Cube. Simmer until liquid is reduced.
Step 4
Add remaining coconut milk and cook over low heat for 10 minutes. Simmer, uncovered, while stirring occasionally to get a thick and creamy consistency. Serve hot.
Besides pork, a laing recipe from Bicol uses freshwater shrimp, shrimp paste, and fish flakes. This variant, which is called tinumok, also includes lemongrass. Other notable versions are Albay's inulukan and Aklan's linapay. The former includes river crabs wrapped in taro leaves. Meanwhile, the latter uses freshwater shrimps. Both sit in saucy spiced coconut milk.
Which laing recipe is the best you might ask? It'll depend on your preferences, but make sure it balances the sweetness of coconut cream, the fieriness of chilies, and the umami of pork. Start with this basic version and figure out which aspects to adjust. Don't forget to cook rice, too!