Are you looking for a recipe that's both healthy and easy to make? Look no further than ginisang monggo! This classic Pinoy dish pairs well with almost anything – fried food, inihaw, and even just plain steamed rice. Plus, it offers loads of vitamins and minerals to help your child's development.
Monggo is a terrific source of protein, iron, and fiber. It's also one of the most versatile pantry staples you can work with. Beyond this ginisang monggo recipe, you can add it to salads, soups, and many other stews.

Besides mung beans, this recipe only requires everyday ingredients, like fresh garlic, onion, and tomatoes. That means you probably have everything on hand to whip up this dish today – no trips to the grocery store required! Pork is among the ginisang monggo ingredients listed here, but you can swap it for any protein you have. Try it with tinapa, small shrimp, or giniling. For variation, you can also cook ginisang monggo with sotanghon. Lastly, load it up with your kid's favorite veggies – eggplant, squash, and kangkong are worthy additions.

Ginisang Monggo Ingredients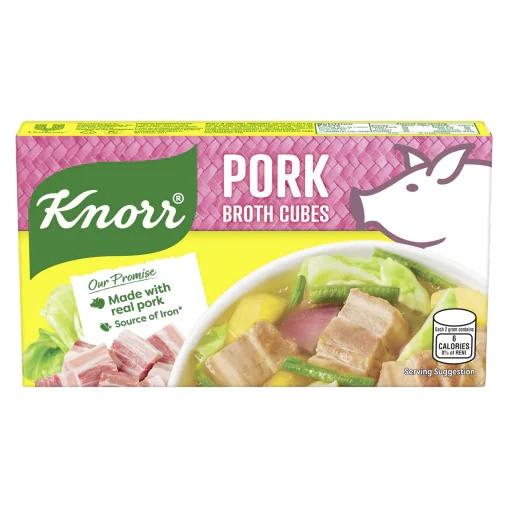 30 g vegetable oil
40 g garlic, chopped
120 g medium onion, chopped
360 g medium tomatoes, chopped
250 g pork strips
140 g mung beans (monggo), washed and presoaked
4 cups water
2 pcs Knorr Pork Cubes
250 g ampalaya, sliced thinly (optional)
120 g malunggay leaves
½ cup crushed pork chicharon (optional)
How to Cook Ginisang Monggo
Step 1
Heat oil in a pot. Sauté garlic, onions, and tomatoes until fragrant, about 2 minutes.
Step 2
Add pork and cook until browned.
Step 3
Add monggo, water, and Knorr Pork Cubes. Simmer until the mung beans are tender.
Step 4
Add ampalaya and cook for 2 minutes. Stir in malunggay leaves.
Step 5
Ladle into serving bowls and top with chicharon. Serve hot.
Kids can be finicky eaters. Some parents even find cooking a chore because they dread the mini battle at the dinner table. But the good news? There are still many food options that both kids and parents love. You'll be surprised that ginisang monggo is one of those dishes! Children can't get enough of this comforting ulam. Sometimes, they won't even notice all the vegetables in it. Try cooking this dish more often. Why wait for Friday if you can enjoy its benefits every day?