Japchae is a sweet-savory Korean dish made of glass noodles and colorful veggies tossed in a sauce of soy and sesame oil. Traditionally, japchae recipes feature sweet potato noodles, which are low-calorie and naturally gluten- and fat-free. These qualities make them a healthier alternative to more carbohydrate-heavy options, like instant ramen or pasta.
Next time you're craving a big bowl of noodles late at night, make yourself some japchae. It's satisfying but not overly filling, so you can scarf it down without risking a tummy ache. When cooked right, japchae noodles are springy and slightly chewy – perfect for tteokbokki lovers who can't get enough of that distinct "QQ" texture. Try this recipe today and treat your taste buds to a trip to Korea!
Ingredients for Easy Korean Japchae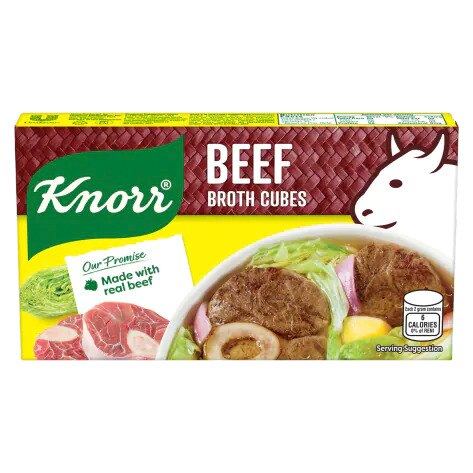 2 tbsp canola oil
1 pc onion, sliced
3 cloves garlic, chopped
¾ cup light soy sauce
¼ cup sesame oil
3 tbsp brown sugar
1-2 pcs Knorr Beef Cubes, mashed
½ cup carrot strips
½ cup beef loin strips
½ cup sliced shiitake mushrooms
300 g cellophane noodles, cooked and drained
½ cup spinach leaves
toasted sesame seeds
Low-Calorie Japchae Recipe
Step 1
Heat oil in a pan over medium flame. Sauté onion and garlic until fragrant. Add light soy sauce, sesame oil, brown sugar, and Knorr Beef Cubes. Mix well.
Step 2
Add carrots, beef, and mushrooms. Sauté for 30 seconds.
Step 3
Add noodles and spinach. Stir well. Adjust seasonings, if needed.
Step 4
Transfer to a platter and top with sesame seeds. Serve immediately.
This japchae recipe mostly calls for noodles and veg. If you want to make it purely vegetarian, you can skip the beef loin and double the mushrooms. Add more veggies, like bell peppers, snap peas, and zucchini, for a nutrient boost.
While most Korean restaurants will serve this as a side dish, it's hearty enough to be a main. It keeps well, so don't feel pressured to finish a pan in one sitting – though you're welcome to it. Save some for later! Store it in the fridge for up to four days and reheat it in the microwave when you feel snacky again. The best part is that it retains its chewiness and gets more flavorful with time. Another win for Korean japchae! Convinced yet? Start your Korean feast now!