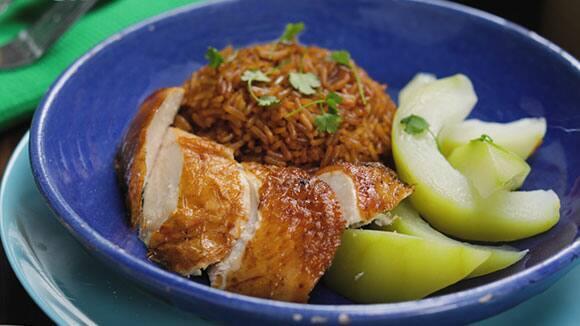 Hainanese Chicken Tinola Recipe
Create our delicious and easy to follow recipe for Hainanese Chicken Tinola leveled up with Knorr Chicken Cube. Give this recipe a try now!
60 MINS

Cooking Time

Medium

Difficulty

30 MINS

Prep Time

6 People

Serves
1 (1.5kg) whole chicken
4 tbsp canola oil, divided
2 tbsp minced fresh ginger, plus 1 (2 inch knob), pounded
3 garlic cloves, minced
1 tbsp fish sauce
2 white onions, sliced into wedge
1 whole head of garlic, sliced in half crosswise
FOR THE GINGER SAUCE:
1 (2 inch) piece ginger, peeled
1- 2 cloves garlic, peeled
2- 3 stalks green onions, chopped
½ cup canola oil
sesame oil
salt to taste
FOR THE SWEET SOY SAUCE:
½ cup soy sauce
5 tbsp brown sugar, packed
FOR THE CHICKEN RICE:
1 pc Knorr Chicken Cube
1 - ¾ cup water
1 cup white rice, well washed
TO SERVE:
Cilantro leaves
Store-bought chili sauce
1 pc green papaya, sliced into wedges and steamed
Let's start by marinating the chicken to get full flavor. Get ready to marinate the chicken by removing the excess fat from the cavity and neck part. Pat dry with paper towels before rubbing it with a mixture of 2 tablespoons canola oil, minced ginger, minced garlic and fish sauce. Transfer to a food grade plastic sheet or container and leave to marinate in the refrigerator for 4 hours or overnight.

A traditional Hainanese is cooked by plunging the chicken in a boiling and flavourful broth. One of the things that will make you look forward to eating and making this dish is the different way it is prepared. You start by preheating your oven to 180 degrees Celsius.

Place onion slices and pounded ginger in a large roasting tin then add the remaining 2 tablespoons canola oil. Using your hands, mix the vegetables well and place the chicken on top. Add the whole head of garlic and roast in the oven for 75 to 90 minutes, or until the juices run clear and the chicken is cooked through. When the chicken is done, remove from the roasting tin and set aside to rest, reserving the juices and other ingredients in the tin to make the rice.

Make the sauces: While the chicken is roasting, you can go ahead and prepare the sauces. For the ginger sauce, grate ginger and garlic through a fine grater over a small bowl. Toss in the green onion, canola oil, and a splash of sesame oil with a pinch of salt. And that's it. Adjust the seasoning if necessary. Set this aside and make the next sauce.

To make the sweet soy sauce, just combine the soy sauce and brown sugar in a small pot. Cook over medium heat for 5 to 7 minutes until mixture becomes slightly thickened. Sauce will thicken more once cooled. Transfer to a bowl and set aside.

Make the rice: Hainanese is not complete without the rice. So, to make the rice, add the Knorr Chicken Cube and water to the reserved roasting tin with the onions, garlic, ginger and any roasting juices and bring to a boil. Don't forget to scrape the bottom of the roasting tin with a wooden spoon to make sure you pick up all the tasty chicken roasting juices. Mash the onions and roasted garlic too for maximum flavour!

Once boiling, strain the liquid through a fine sieve into a saucepan and place over medium heat. Add the rice and bring back to a boil. Cover and simmer over low heat for 8 minutes. After the 8th minute mark has passed, the liquid should have been nearly absorbed by the rice. Turn off the heat and cover with a tea towel and the saucepan lid. Set aside for 10 minutes to steam.

To serve: Here's how you can enjoy a tasty Hainanese Chicken Tinola in style. Carve the chicken into pieces and place on a serving plate with a scoop of rice. Add the green papaya wedges and sprinkle over some cilantro leaves. Serve with ginger sauce, sweet soy sauce and chili sauce on the side. Well, if that will not make your heart palpitate, I don't know what else will.
Suggested recipes
15 MINS

Easy

20 MINS

4

people

10 MINS

Easy

10 MINS

4

people

45 MINS

Medium

15 MINS

4

people
cookTime

difficulty

prepTime

servings

people
Want tailored recipes, tips and tricks, and product news?
Tell us your cooking preferences and we'll do the rest.