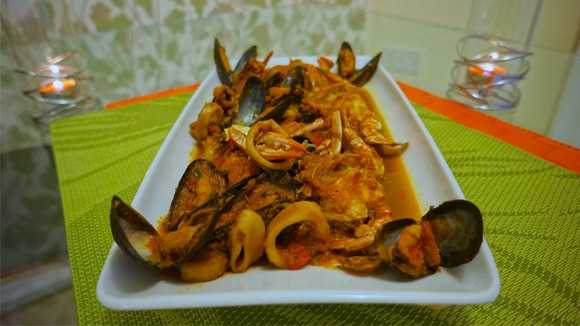 Mixed Sea Food/Mixed Vegetable Sauce
Get your taste buds excited with this easy to make mixed seafood recipe which includes Crab meat, clams, squid & mussels.
40 Minutes

Cooking Time

Medium

Difficulty

10 Minutes

Prep Time

2 People

Serves
A Variety Of Seafood - Mussels
Prawns
Calamari
Crab
Firm White Fish (2 Or 3 Varieties)
4 Large Tomatoes
2 Red Bell Peppers – Tatase
3 Chilli Pepper
Olive Oil
Water
2 Small Red Onions
2 Cloves Of Garlic
1 Green Bell Pepper
1 Yellow Bell Pepper
Juice Of Half A Lemon
Dried Pepper
Thyme
Chopped Efinrin - Scent Leaf Or Nchawu
Chopped Basil
Salt
Knorr Cubes
Clean the seafood thoroughly, sprinkle over the lemon juice and set aside

Using a blender, blend the tomatoes, red bell peppers, scotch bonnets and 1 red onion to a smooth paste.

Empty the contents of the blender into a pot; turn up the heat and boil the pepper mixture for 10 minutes.

Chop the other red onion, and finely mince the garlic. Cut the green and yellow bell pepper into julienne strips and set aside. In a deep saucepan or pot, heat up 4 tablespoons of olive oil and sauté the onions and garlic till translucent.

Add the reduced pepper and let it fry till it thickens into a rich tomato stock. Now add water, teaspoon of dried thyme and bring to a boil.

Add the rest of the ingredients into the bubbling boiling stock, taste for salt and seasoning cube. Re-adjust for taste if necessary.

Add the seafood, lemon juice and all into the boiling pot and lower the heat.