Who can resist this mouth-watering Salisbury steak?
Burger aficionados will proclaim that the best kind of hamburger is cooked over a massive outdoor grill. But not everybody has a fancy outdoor cooktop. Most Filipino homes have the standard ihaw-ihaw set-up that isn't exactly ideal for Burger Steak cooking. Not to mention that not everyone has the time to spare to get a good coal fire going.
Although you can easily find this delicious steak meal in many fast-food restaurants, a homecooked version would trump it easily. The best part? It's super easy to do and does not require professional equipment or hard-to-find ingredients. Learning how to make Burger Steak at home is a healthier option than overly processed hamburger meals that can be ordered on food apps. Here's what you'll need to make this dish indoors.
No Grill, No Problem!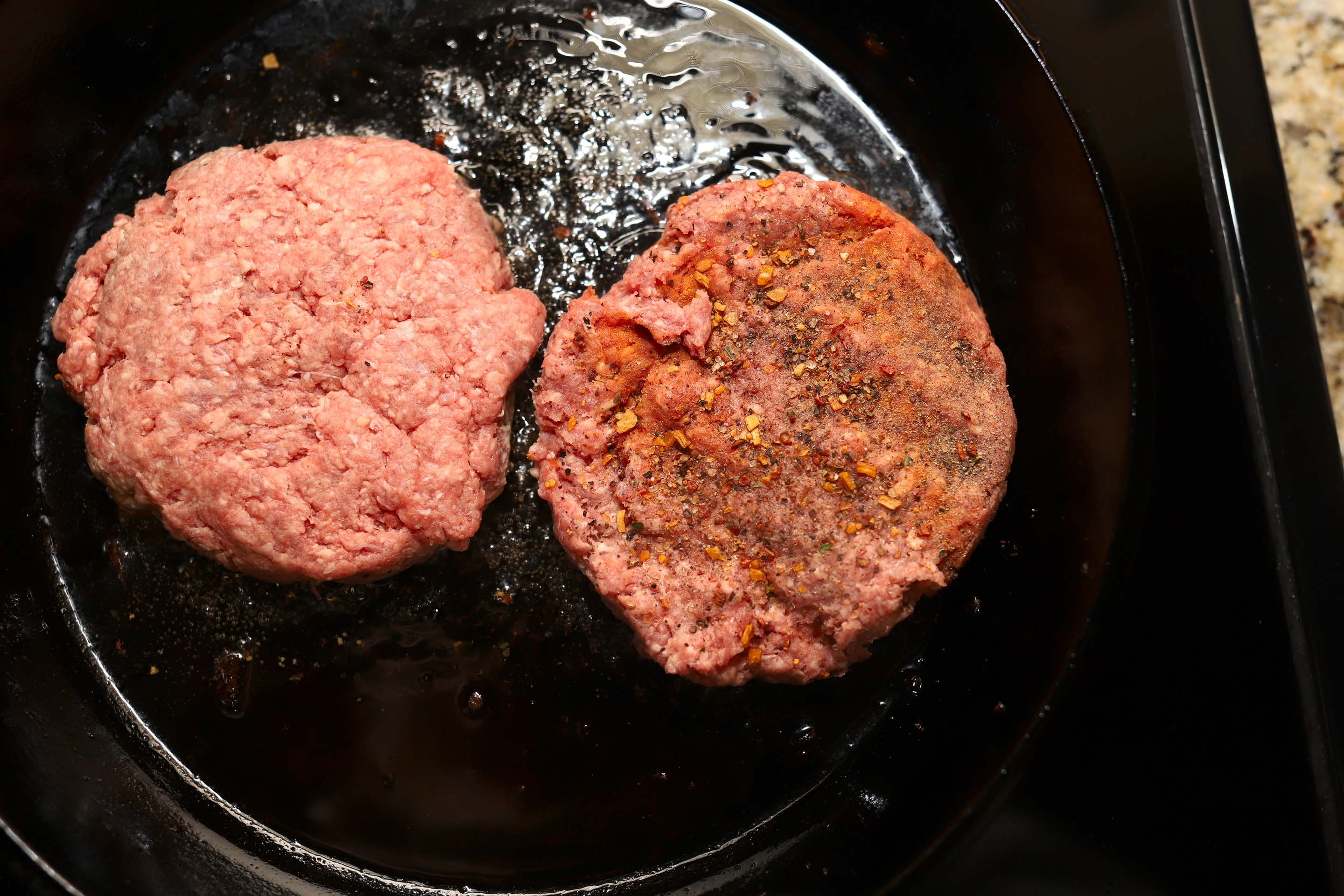 Get an even sear and juicy burgers even without a grill
Hamburger steak isn't solely a Filipino menu item. The popular dish traced its early origins in the late 1800s and was said to be developed by German migrants. The Hamburg Beefsteak was first served to diners in New York City. From there, the concept was picked up and soon spawned several variations. Thus, you might also know this as the Salisbury steak or the Japanese Hanbāgu steak – both variants now feature a gravy type Burger Steak sauce and other side dishes (fries, mashed potato, salad, etc.). In the Philippines, the dish is served with lots of mushroom sauce and a cup of white rice.
Now that you got a quick history lesson on where this beefy meal came from, it's time to learn how to make it yourself. Because tropical weather can switch from hot and humid to rainy in a blink of an eye, it would be helpful for many home cooks to know how to recreate this grilled meat indoors. First, let's start with your cooktop options.
Grill pan
Easily a favorite choice amongst professionals, the cast iron grill pan works on any stovetop. Get quick and evenly cooked meat every time you use this cookware. Additionally, these pans are great for sealing the juices and giving the patty a nice brown sear and gorgeous charred marks that are often synonymous with outdoor BBQing. You can use a regular cast iron pan in place of the grill model. The only difference would be the lack of tell-tale "grill" marks.
Electric griddle
Affordable electric griddles are a godsend. You can cook fish, hotdogs, vegetables, kebabs, steaks, and of course burgers. These appliances are very portable and can be taken with you and used anywhere there's an electrical power source. Many electric grillers have interchangeable plates that can take you from grilling to flattop cooking, where you can start making pancakes, bacon, hashbrowns, and much more. Because it is electric, heat distribution can be tricky, and getting those picture-perfect marks might not be easy.
Non-stick skillet
Just about every household has a non-stick skillet. So, can you cook burgers on it? Yes! It may not be a well-seasoned iron pan, but the truth is, burgers can come out just as tasty on any other cookware you have on hand. The trick to making the best burgers is picking the right meat and seasoning. Arm yourself with some patty basics, and you're well on your way to eating delicious Burger Steaks.
Making the Patties
Every family has their own grilled or roasted chicken recipe at home. If you are looking to try out a delectable version of Mang Inasal Chicken but find yourself worried about calories, here are 5 tips that can help.
Tip #1 Choose the leaner parts of the chicken
An order of Chicken Inasal from an infamous Bacolod fast-food joint contains a cup of rice and typically the thigh part of the bird. Though tasty, red meat, as we know, is not the healthiest part. When making grilled chicken at home, look into trading the thigh for the breast part instead. You can take it a step further by taking out the skin or marinading chicken fillet instead.
Tip #2 Lose the white rice
Us Filipinos eat a lot of rice. One Pinoy comedian even referred to us as "RICEVORES" since the love of rice spans from Apari to Jolo. He's not wrong there. A large chunk of the population does consume rice three times daily. If possible, switch out the white rice for something healthier like red, brown, or black rice. Even better when you can forego grains in favor of some salad or a grain alternative like Adlai or cauliflower "rice."
Shredded grilled chicken goes well on sandwiches too! Consider making Roasted Chicken Sandwiches, Fajitas, Chicken Pasta dish, or even Sopas. The marinade will lend that unexpected flavor to an otherwise ordinary recipe.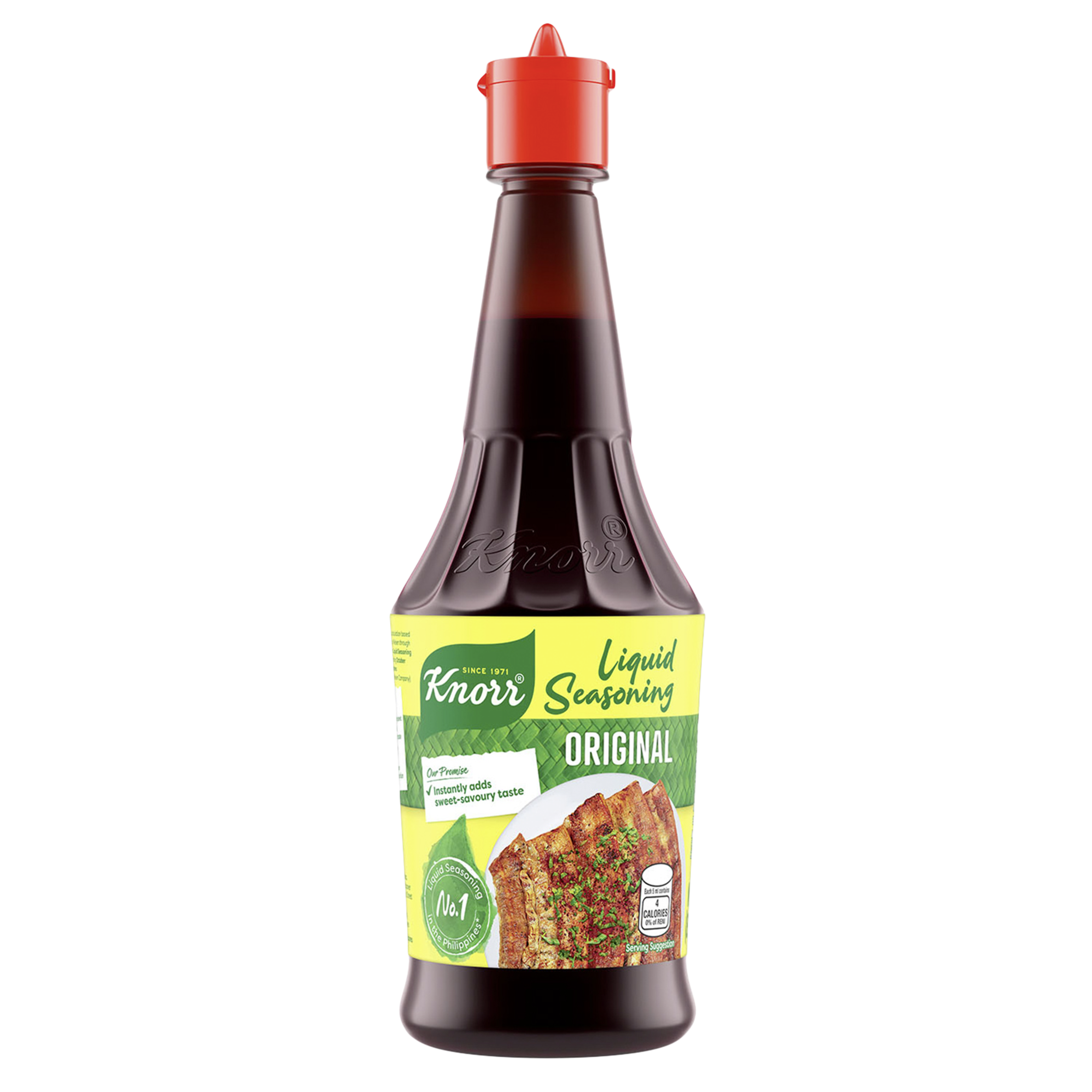 Level up the flavor with just a few drops of Knorr Liquid Seasoning
Once you decide on a cooking option, the most important thing is making your patties.
Selecting the meat
There are countless types of meats and substitutes that can be used to make the patties. Some people use turkey, chicken, elk, veggie, and of course, the classic beef. Of all the options, your best bet is to start with beef.
Readily available, beef chuck with a ratio of 80 to 85 percent lean meat plus 20 to 25 percent fat should be your base proportions. Opt for meat with a coarse grind to have juicier tasting grilled patties. Too fine, and you can end up with a paste that is honestly not the most palatable mouth texture. You also lose out on the flavor.
Choosing the seasonings
Burger patty recipes are pretty cut and dry. Lots of grill cooks follow a simple salt and pepper seasoning method. You can play around with herbs and spices that are to your liking. There are numerous burger recipes you can use until you find something that your entire family enjoys. Garlic, chopped onions, basil, and some Knorr Liquid Seasoning can go a long way when making your homemade burger meal.
Time to Start Grilling
Unlike your garden variety steak, Hanbāgu steak needs to be cooked along the lines of medium-well to well-done. Whichever cookware you choose to use when making this dish indoors, your goal is to get the meat's interior temperature somewhere between 150 to 160 degrees Fahrenheit. While trying to reach optimum temperature (use a cooking thermometer), keep a close eye on the exterior. You don't want a blackened crust.
Sizzling plates are a wonderful way to serve your Burger Steak. Iron plates ensure that the food remains hot from stove to tabletop. Consider pairing it with whole wheat dinner rolls and grilled vegetables for a healthier meal.
No hamburg dish is complete without a generous helping of sauce. Typically covered in brown gravy, this should not stop you from switching it up. Other sauces you can use to complement your Burger Steak are creamy mushroom sauce, marinara, basic bechamel sauce, or add a dash of seasoning to amplify the umami taste. With Knorr Liquid Seasoning, you get premium flavors at an affordable price. Try out our burger-making tips and let us know how it turns out.