Batangas is a province known for its excellent diving spots, handcrafted switchblades, kapeng barako, and a distinct type of lomi. Although available year-round, the hearty noodle soup is a source of warmth, comfort, and tranquillity on rainy days. Batangas lomi is the definition of soul food for locals and tourists alike.
What exactly sets this regional recipe apart from the standard version? How does it compare to other types of pancit from different provinces? Read on to find out how the lomi from Batangas upstages the rest without much effort.
The History of Batangas Lomi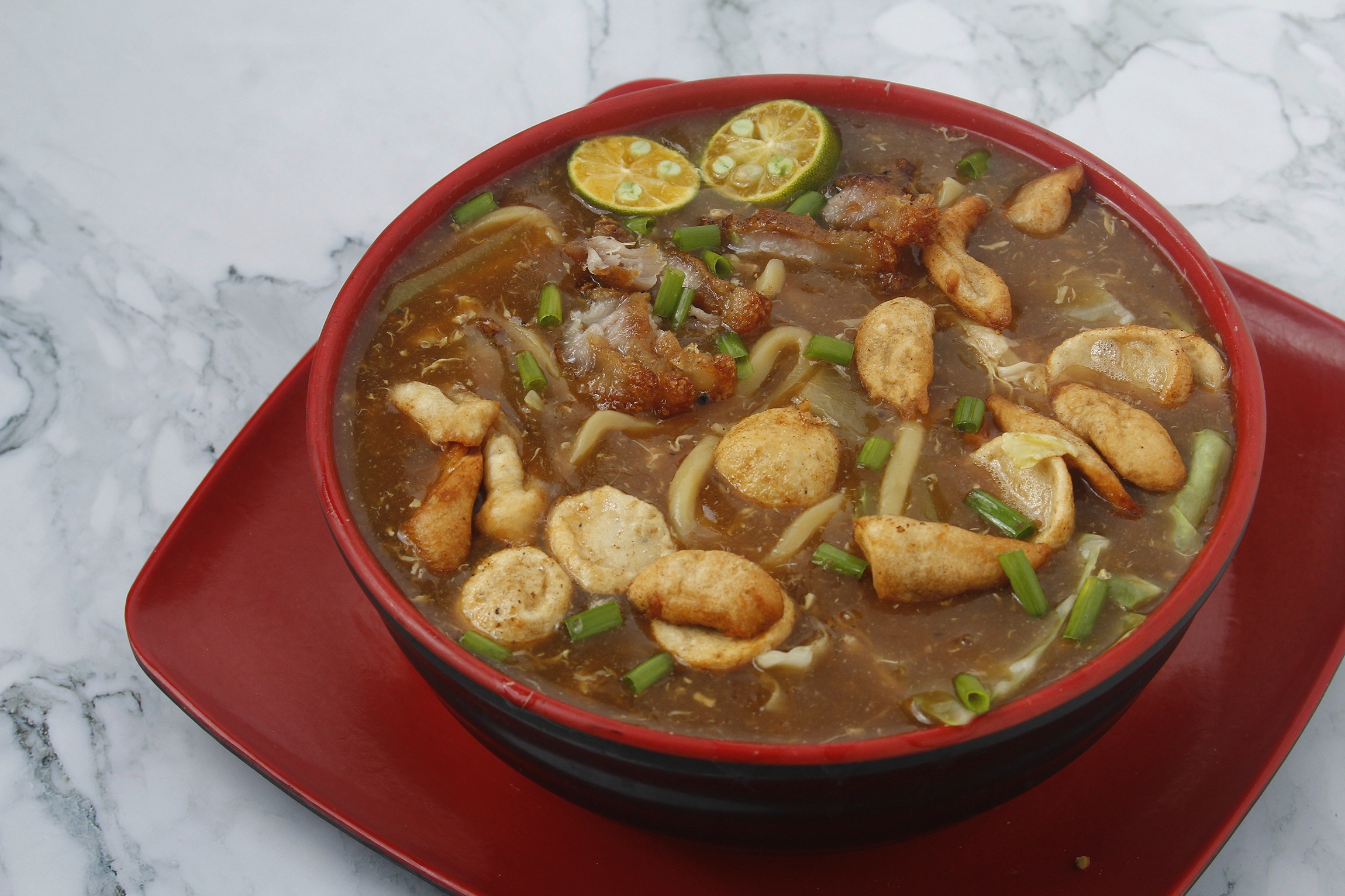 Restaurateur To Kim Eng first served lomi to his mahjong buddies in 1968. And because it was such a hit, he and his wife decided to sell the noodle dish at their panciteria. From then on, the dish's popularity spread like wildfire, reaching neighboring provinces and even Manila. Eventually, other eateries came up with their version, adding tweaks to its components and the cooking method.
Many compare lomi to the Chinese lo mein. But Batangas' noodle dish is the complete opposite. The first difference you'll notice is the thick, rich soup. You also won't see many vegetables in a bowl. Instead, you'll get toppings with varying textures and flavors.
Main ingredients of Batangas Lomi
Every steaming bowl of authentic Batangas lomi is a carnivore's dream. Sure, you'll see some aromatics and garnishes, but they only play a supporting role. Every serving is overflowing with meaty elements, complementing the fat and starchy egg noodles. Expect your bowl to feature any of these components:
pork belly strips
pork liver
pork heart
Chinese kikiam
fish balls
chicharon
hard-boiled eggs
Over time, iterations of the dish included more indulgent ingredients like:
lechon kawali
shredded fried chicken
braised beef
pork asado
fried tofu
meatballs
squid balls
lumpiang shanghai
chicharon bulaklak
bone marrow
How to Cook Batangas Lomi
Recreating this soup is easier than most people think. The most efficient approach is to divide the process into three parts.
Part 1: Preparing the bone stock
Simmer bones and animal tissue to make a flavorful soup base. Enhance its meatiness by adding a Knorr Chicken Cube. Make as much broth as needed and set aside.
Part 2: Cooking the components
Cook each component separately. Boil the egg noodles according to package directions. Next, fry, simmer, or roast the meats and other ingredients. Prepare extras so there's enough to go into the soup base and add as toppings.
Part 3: Assembling the noodle soup
Sauté aromatics and a portion of the precooked ingredients. Add the noodles and some broth. Let the mixture simmer for a few minutes. Once ready, you can add dissolved cassava starch or cornstarch to thicken the soup. Your Batangas-style lomi should be done in under an hour. Make sure to serve it very, very hot.
How to Eat Batangas Lomi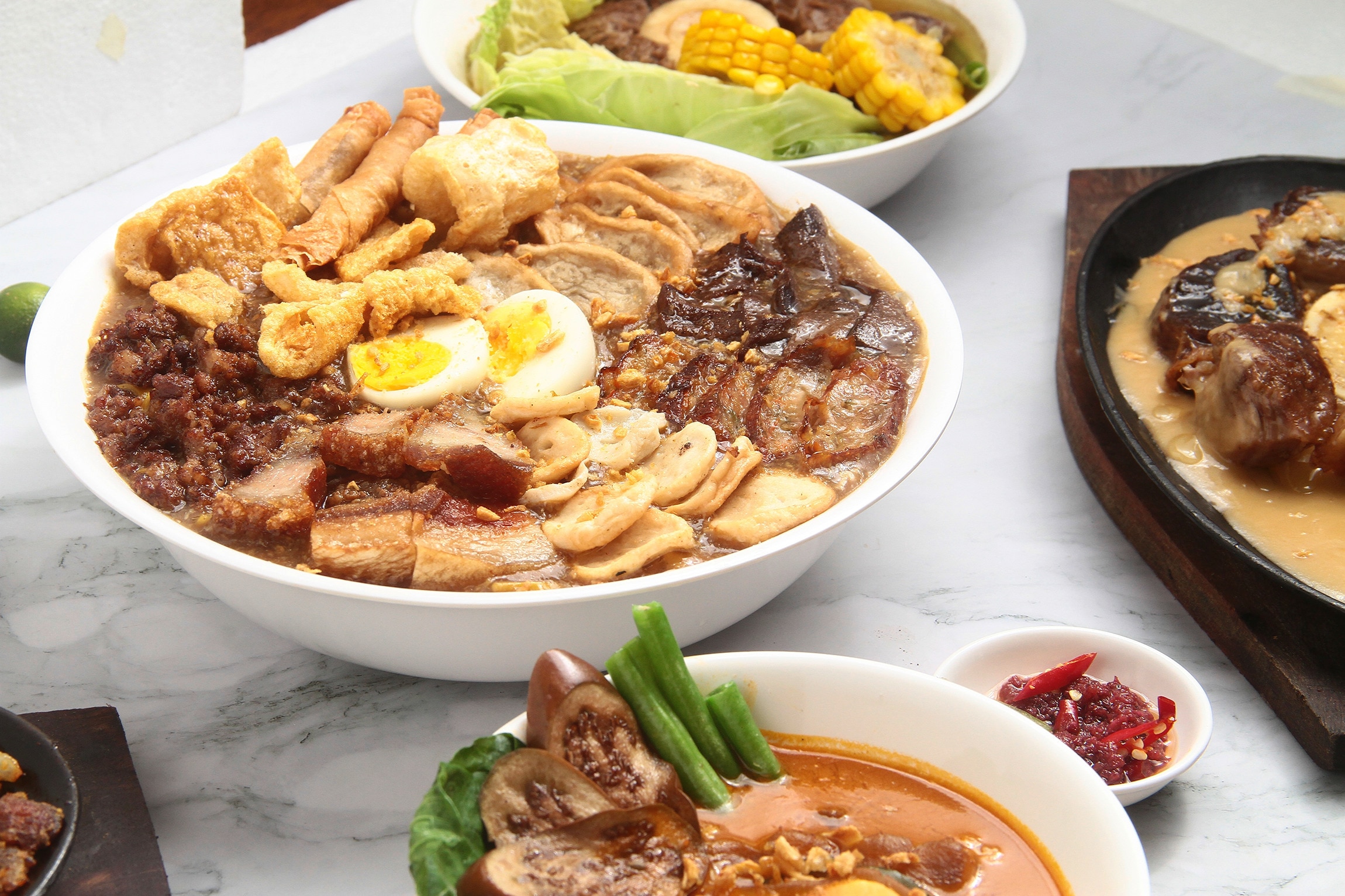 Digging into a bowl teeming with noodles, broth, and meat can be overwhelming. Here are three things you can do to ensure a one-of-a-kind experience.
Eat it while it's hot.
Hot soup on a rainy day is like a warm embrace. But that's not the only reason locals insist on eating lomi while it's piping hot. According to them, the cassava starch in the broth thins as the dish cools. Don't hesitate to slurp the soup immediately upon serving.
Pile on extra toppings.
No one can claim that a serving of this lomi lacks flavor. Aside from its umami-rich broth, every bowl features a mound of toppings with varying profiles. Diners are also encouraged to add extra components, like chopped shallots, spring onions, chili oil, and toasted garlic.
Complement the soup with condiments.
Malinamnam is how many would describe the soup base of this local delicacy. To counter that richness, you'll want to eat the dish with a side of condiments. The Batangueño's choice? A mixture of soy sauce, calamansi, and red chilies.
Batangas lomi is a meal on its own, but you can also pair it with light snack items, like siomai, puto, or siopao. Ready to try the most comforting noodle soup in the country? Gather your ingredients, get your biggest pot ready, and fire up that stove!