Are you looking for a fun and exciting chicken dish to cook for your family? Try wrapping bite-sized pieces in pandan leaves! Gai hor bai toey or pandan chicken is a well-loved dish from Thailand. The use of actual leaves might seem weird to some, but it gives a distinctly sweet aroma that will make mouths water. Most Thai restaurants serve it as an appetizer, the perfect starter to ready your palate for any forthcoming feast. But you can also enjoy it as an ulam to pair with rice.
Make this pandan-wrapped chicken whenever you crave Thai flavors or want to bring out the wow factor at your dinner party. Remember: the chicken marinade can make or break this dish. This pandan chicken recipe blends Knorr Liquid Seasoning with aromatics and oyster sauce to add that umami kick.
For the best result, leave the chicken to marinate overnight in the fridge before frying it. Don't forget the MVP of this recipe! You can use any kind of pandan in the market (or your backyard!), but make sure the leaves are bright green and blemish-free.
Get all the ingredients ready, and start cooking!
Pandan Chicken Ingredients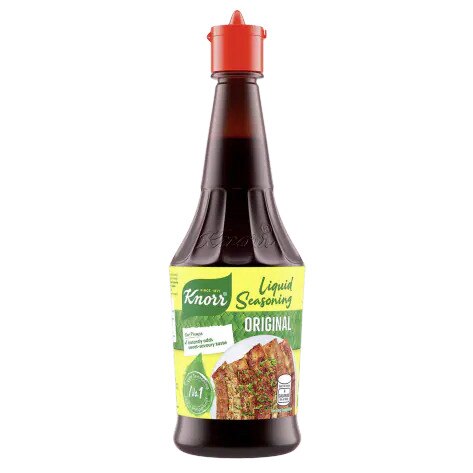 4 cloves garlic, minced
1 tbsp black peppercorns, crushed
2 tbsp Knorr Liquid Seasoning
1 tbsp oyster sauce
1 tsp sugar
1 tsp sesame oil
5-6 cilantro roots, chopped
500 g chicken breast fillets, sliced into quarters
pandan leaves, cut into 6-inch strips
vegetable oil
How to Cook Pandan Chicken
Step 1
Combine garlic, peppercorns, Knorr Liquid Seasoning, oyster sauce, sugar, sesame oil, and cilantro roots in a bowl. Add chicken and mix well. Marinate in the refrigerator for 1 to 2 hours.
Step 2
Make pockets using pandan leaves. Take two strips of leaves and form an "X." Place a chicken piece at the center and bring the ends together to wrap it fully. Secure with a toothpick. Repeat with remaining ingredients.
Step 3
Heat oil in a pan. Deep-fry pandan chicken until cooked through. Drain on paper towels. Serve hot.
This pandan chicken will be the night's highlight, especially if you serve it with sweet chili or plum dipping sauce. You'll be taken back by the floral-like aroma as you unwrap the leaves. To shorten your load during cleanup, place an empty bowl at the table so your guests can easily put away leaves and toothpicks. Want other Asian chicken dishes? From chicken pad thai to chicken in lemongrass sticks, find more dinner ideas from Knorr!