Want to serve juicy steaks for your family's Christmas dinner without blowing your budget? Try this Salisbury steak recipe to experience the same beefy goodness minus the hefty price tag. This dish is a version of the German Hamburg steak, a.k.a. the inspiration behind Filipino fast-food favorite burger steak. All variations feature a ground beef patty seasoned with herbs and spices, then topped with a luscious sauce to keep it moist.
This recipe calls for thickened cream of mushroom soup to serve as your gravy base. You can enhance it further by adding sautéed mushrooms. Fresh is best and widely available (for cheap!) at most Asian grocery stores. Alternatively, you can go for the canned variety to make it even easier on the pocket.
Since you're saving on the main course, you can use your extra funds to bulk up the meal with homemade sides. Pair this with creamy mashed potatoes and roasted or steamed vegetables to round out your Noche Buena feast.
Ingredients for Salisbury Steak Recipe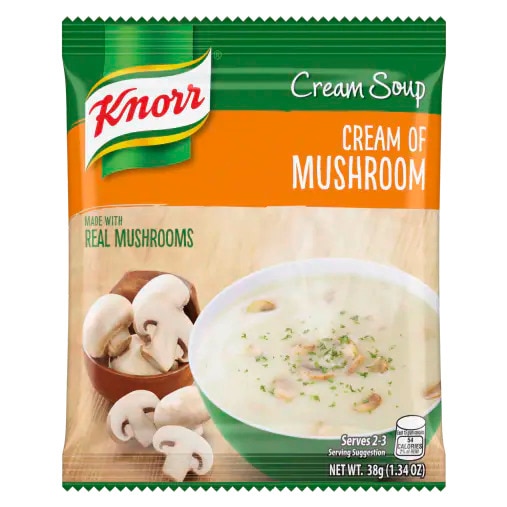 1 pack Knorr Cream of Mushroom Soup
500 g lean ground beef
1 pc onion, minced
6 cloves garlic, minced
1 pc Knorr Beef Cube, mashed
¼ cup flour
1 pc egg, beaten
2 tsp Worcestershire sauce (optional)
salt and black pepper, to taste
oil, for frying
How to Cook Salisbury Steak
Step 1
Prepare Knorr Cream of Mushroom Soup according to package directions. Lessen the required amount of water to thicken the soup into a saucy consistency. Set aside.
Step 2
Make the patties: Combine beef, onions, garlic, Knorr Beef Cube, flour, egg, and Worcestershire sauce in a bowl. Shape mixture into balls, then flatten into 1½-inch-thick patties. Season with salt and pepper.
Step 3
Heat oil in a pan over medium flame. Fry beef patties until cooked through. Flip to brown on both sides. Serve hot with prepared mushroom sauce.
This simple steak recipe is proof that you don't have to splurge on ribeye steaks to enjoy a special Christmas dinner. If you want your patties crispier on the outside, take cues from Japanese hambāgu by adding breadcrumbs to the mixture. They offer extra crunch and browning while the beef stays juicy in the center. Save your leftovers for breakfast the next day and enjoy them loco moco-style with a runny fried egg on top. So many possibilities!