Kimchi starts with fresh vegetables, such as napa cabbage and radish. It then goes through a fermentation process, with seasonings like gochugaru (Korean chili powder), to make a unique and flavor-packed side dish. It's sour, salty, spicy, and pungent all at once. Some people love it so much that they'll eat it on its own with just a side of rice! Classic Korean dishes like kimchi-jjigae (kimchi stew) and bokkeumbap (fried rice) feature it as their star ingredient.
So, when you think about it, Korea's national dish makes perfect sense in sinigang. It has that satisfying asim-kilig quality that Pinoys love. Looking for an easy way to upgrade your sinigang? Try this comforting kimchigang recipe, made with gochujang (Korean chili paste) and Knorr Sinigang Mix.
Ingredients for Kimchi Sinigang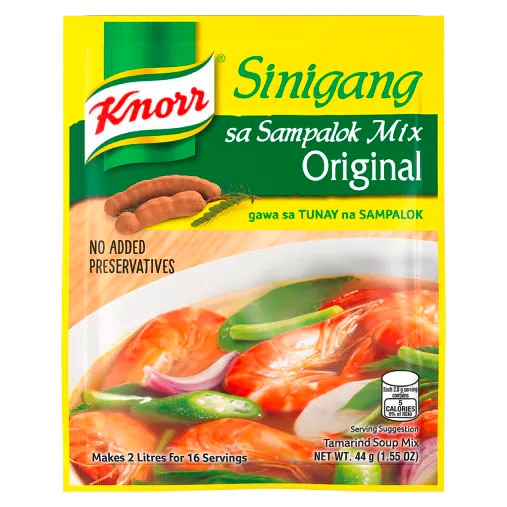 4 cups water
1 (22-g) pack Knorr Sinigang sa Sampalok Mix Original or Sinigang na May Gabi Mix
1 (500-g) piece pork belly (lechon kawali-style)
oil, for frying
2 pcs red onions, quartered
300 g kimchi, sliced
1½ tbsp gochujang
200 g gabi (taro root), peeled and cut into large cubes
20 cherry tomatoes
1 (100-g) bunch kangkong, leaves picked and stems cut into 2-inch pcs
200 g fresh firm tofu, cubed
chopped green onions, for garnish
How to Make Kimchi Sinigang
Step 1
Bring water to a boil over medium-high flame. Add Knorr Sinigang Mix and stir to dissolve. Add pork belly. Lower heat and simmer, covered, for 1-2 hours until tender. Skim impurities on the surface. Separate pork and pat dry. Set soup aside.
Step 2
In another pan, heat oil, about 5-cm deep, over medium-high flame. Fry pork belly until crisp and golden brown. Drain on paper towels. Let cool before slicing into squares. Set aside.
Step 3
Strain soup using a fine mesh sieve. Transfer liquid to a clean bowl. Add more water to make 4 cups again. Set aside.
Step 4
In another large saucepan, heat 2 tbsp oil over medium flame. Add onions, kimchi, and gochujang. Cook, stirring continuously, for at least 5 minutes. Add soup and gabi; bring to a boil. Lower heat and simmer for 15-20 minutes or until the gabi is tender. Thicken soup by mashing half of the gabi.
Step 5
Add tomatoes and kangkong stalks. Lower heat and simmer for 3 minutes. Remove from heat and stir in kangkong leaves.
Step 6
Divide soup into serving bowls. Top each with pork and tofu. Garnish with green onions. Serve hot with rice.
Your kimchigang is sure to win over new kimchi lovers. No one can deny that flavor! Go all out and serve it with an assortment of Korean banchan (side dishes), like stir-fried veggies and crispy jeon (savory pancakes). Make it for your next Korean barbecue night – this sour, spicy soup would pair well with smoky grilled meats. Bring it to a potluck party and inspire your loved ones to try new styles of sinigang, too. Everyone should get a taste of this!