Summer is the season for beach trips, picnics, and inihaw. But why settle for boring barbecue marinades and glazes when you can make something entirely new? Try these pork chops inspired by classic pork sinigang recipes. It calls for a dry rub of sinigang mix and black pepper to give the grilled meat a refreshing sour-savory taste with a subtle, peppery kick.
In one dish, you get the best of two Filipino favorites. You'll love this unique combination of bright, asim-kilig flavors and summer-ready smokiness. You can even pair this ulam with a quick, all-veggie sinigang soup made with the same mix to lighten up the meaty meal.
5-Ingredient Grilled Pork Sinigang Recipe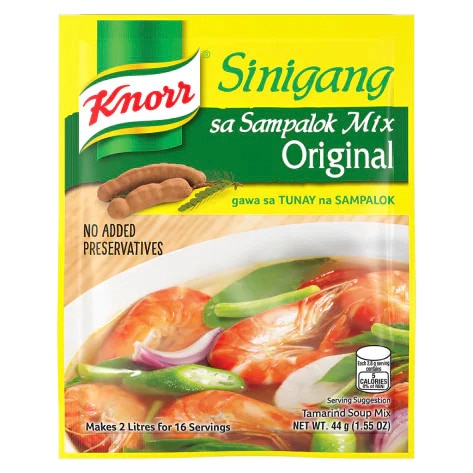 1 (20-g) Knorr Sinigang sa Sampalok Mix Original
1 tsp ground black pepper
4 pcs pork chops (¾- to 1-inch thickness)
¼ cup sesame oil
canola oil for grilling, as needed
Grilled Pork Sinigang Recipe With Sinigang Mix

Step 1

Combine Knorr Sinigang sa Sampalok Mix Original and black pepper. Rub mixture on both sides of the pork chops. Optionally, mix in chopped herbs for freshness.
Step 2
Drizzle sesame oil over both sides of the chops for added flavor and aroma.
Step 3
Heat a griller and brush it with oil. Grill pork chops for 3 minutes, then flip to cook the other side. Serve hot.
Complete this grilled pork sinigang recipe with a spicy-pungent sauce of patis, chopped siling labuyo, and fresh tomatoes. You could also double down on the sour notes by opting for a soy sauce and vinegar dip with lots of red onions. It's the go-to sawsawan of inihaw-loving Pinoys! Apart from a veggie soup, serve some ensaladang talong, lato,or pako alongside the meat for something fresh and vibrant. And whatever you do, make sure to have a big pot of freshly steamed rice ready. You'll want two cups per serving – minimum!