Planning flavorful and nutritious meals for a family of four can be challenging on a tight budget. Thankfully, you can count on numerous wallet-friendly Pinoy recipes that make the most of local fruits and vegetables. Take this ginataang papaya, for example. Besides being affordable, it only takes 20 minutes to get it from the stove to the table.
To shorten the cooking time, cut the unripe fruit as thinly as possible. Next, stock up on packets of ready-to-use gata mix to save yourself a few extra minutes. These useful shortcuts help you cook a nutri-sarap meal for your family without even breaking a sweat. Ready? Keep reading to find out the four ingredients you'll need to cook this ginataang papaya recipe.
Ingredients for Ginataang Papaya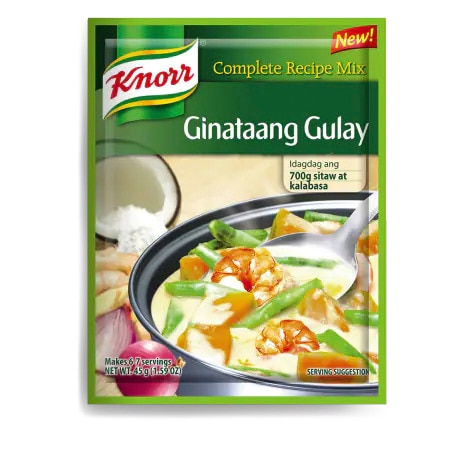 1 pack Knorr Ginataang Gulay Mix

1 cup water
1 pc green papaya, peeled
1 pc tinapa, flaked
How to Cook Ginataang Papaya
Step 1
Combine Knorr Ginisang Gulay Mix and water in a pot. Bring mixture to a simmer over medium heat.
Step 2
Add papaya next and simmer until the vegetable is tender.
Step 3
Add tinapa flakes and stir. Serve hot.
Benefits of Eating Papaya
Did you know that consuming green and ripe papaya offers multiple health benefits? Here are some things you should know about this tropical fruit.
1. It improves heart health.
Adding more papaya to your diet can boost your heart health. Studies have shown that fruits with high vitamin C and lycopene can help prevent heart disease.
2. It contains powerful antioxidants.
Atchara or pickled papaya offers antioxidants helpful to individuals with prediabetes, liver disease, and mild hyperthyroidism.
3. It has anticancer properties.
Research suggests that fruits with lycopene can drastically reduce the risk of cancer. It's also beneficial for people undergoing cancer treatment due to its ability to reduce free radicals.
4. It can fight inflammation.
Inflammation is the leading cause of many diseases. Countless data show that fruits and vegetables rich in antioxidants help decrease inflammation.
5. It improves digestion.
In the tropics, papaya is a known remedy for constipation and other irritable bowel syndrome symptoms. The papain enzymes in papaya make the digestion of proteins easier.
6. It is good for the skin.
Besides keeping the body healthy, papaya helps your skin look fresh and youthful. The combination of vitamin C and lycopene protects the skin and helps lessen redness from sun exposure.
7. It boosts milk production.
Breastfeeding moms will benefit from a green papaya compound that helps improve lactation. Unripe papaya contains chymopapain and proteolytic enzymes that are not present in the ripened fruit. When combined in a recipe, coconut milk and papaya can boost nutrition and release hormones for milk production.
Ginataang papaya with tinapa is a straightforward dish anyone can make. Besides the smoked fish, you can add shrimp, daing, chicken, or leftover liempo for a heartier ulam. Do you need other penny-pinching solutions? Replace these proteins with pantry staples, like canned tuna, sardines, or corned beef. And to level up the dish, pick malunggay leaves and toss them into the pot. Who says you need a big budget to serve your family wholesome and delicious meals?