Are you looking for a surefire way to zhuzh up your Friday favorite ginisang monggo? Make a creamy, coconutty version! Not to be confused with the well-loved merienda, this ginataang monggo is a perfect match for steamed white rice. It's pure savory goodness! In addition to tender mung beans, it also features crispy pork and unripe langka for added heartiness.
Pro tip: save some of the fried liempo for topping. You can also serve it separately to keep it crisp. Try adding a tablespoon of bagoong for extra linamnam. Spice it up with a few chopped red bird's eye chilies. These simple tweaks turn this rainy-day staple into an indulgent, curry-like stew. Prepare a big batch on the weekend to have throughout the week as a heat-up-and-eat-up ulam. Enjoy it as a satisfying lunch on an extra busy day or as a reward after a stressful commute. Ready to start?
Ingredients for Ginataang Monggo at Langka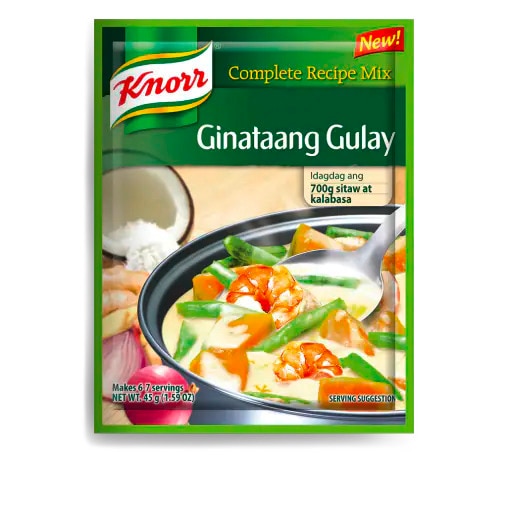 5 cups water
2 cups monggo
2 tbsp oil
1 pc onion, sliced
4 cloves garlic, chopped
½ cup diced pork liempo
3 cups langkang gulay (unripe jackfruit)
½ pc Knorr Pork Cube
¼ tsp salt
1 (40-g) pack Knorr Ginataang Gulay Recipe Mix
A Hearty and Nutritious Ginataang Monggo Recipe
Step 1
Combine water and monggo in a pot over medium-high heat. Bring to a boil. Lower heat and simmer until the beans are tender.
Step 2
In another pot, heat oil over medium flame. Sauté onions and garlic. Add liempo, langka, Knorr Pork Cube, and salt. Cook until the pork is browned and slightly crisp.
Step 3
Add monggo (with the water) and Knorr Ginataang Gulay Recipe Mix. Mix until dissolved. Simmer until your desired consistency is achieved. Serve hot.
If you're watching your meat intake, turn this ginataang monggo into a vegetarian option and replace the pork with fried tofu. You still retain the extra protein and crispy texture while keeping the dish plant-based. The langka, widely used as a vegan pork substitute, adds another layer of meatiness to each bite.
Speaking of veggies, how about tossing in a few more? Add cubed squash and ampalaya leaves like in this nutritious ginataang monggo with kalabasa recipe. Or how about some sitaw, sliced eggplant, tomato wedges, and malunggay leaves? Monggo Fridays just got better!