In a tropical country like the Philippines, coconut trees grow abundant. It stands to reason that numerous Filipino dishes take advantage of its fruit. Everything from the meat to the pulp-extracted milk (gata) finds unlimited use in the Pinoy kitchen. The flesh often goes into dessert salads or summer beverages, while the creamy coconut milk stars in countless savory viands. Take this ginataang langka with liempo, for example.
In the past, preparations for gata-infused recipes began with scaling tall trees and picking the fruit. From there, men cut open the mature coconuts with a sharp bolo. Scraping, grating, and squeezing the meat come next to extract the milk needed in a recipe. But these days, the process is simpler. Anyone can make a ginataan with ease! How? Thanks to ready-to-use coconut milk mixes that cut prep work immensely. See for yourself with this 30-minute veggie recipe!
Ginataang Langka Ingredients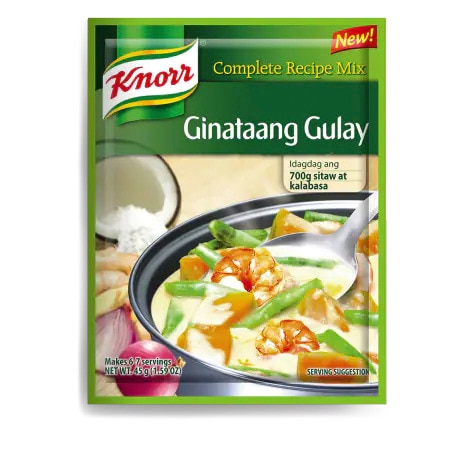 2 tbsp oil
1 pc red onion, chopped
4 cloves garlic, chopped
3 pcs red tomatoes, chopped
1 tbsp bagoong alamang
500 g pork liempo, medium diced
2¼ cups water, divided
500 g unripe langka
1 pack Knorr Ginataang Gulay Mix
How to Cook Ginataang Langka
Step 1
Heat oil in a pan over medium. Sauté onion, garlic, tomatoes, and bagoong until fragrant.
Step 2
Add pork and ¼ cup water. Lower heat and simmer for 10 minutes.
Step 3
Add langka, 2 cups water, and Knorr Ginataang Gulay Mix. Simmer until the vegetables are cooked through. Serve hot.
Never tried unripe jackfruit before? It has a neutral, almost bland taste that makes it a terrific addition to flavorful savory recipes like ginataang langka. Once cooked, the fruit has a meaty texture similar to pulled pork, which is why vegetarians choose it as a plant-based protein alternative. Buy it whole from wet markets or ask the tindera to separate the flesh from the core already. Try it in other easy, everyday ulam like KBL and ginataang monggo.