Tortilla wraps and quesadillas have been all over social media these days. Busy home cooks love them since they're highly customizable and require very little cooking know-how. If you'd like to hop on the trend, then start with classic chicken quesadillas. Fill them with flavorful proteins, colorful veggies, and energizing carbs for a satisfying merienda.
Since they're so easy to prep, you can get your family in on the action. Turn it into an afternoon bonding activity! Set up a quesadilla-making station and let everyone put together their ingredient combos. Follow this chicken quesadilla recipe to learn the basics before giving this cheesy Mexican snack your special spin.
Ingredients for Chicken Quesadilla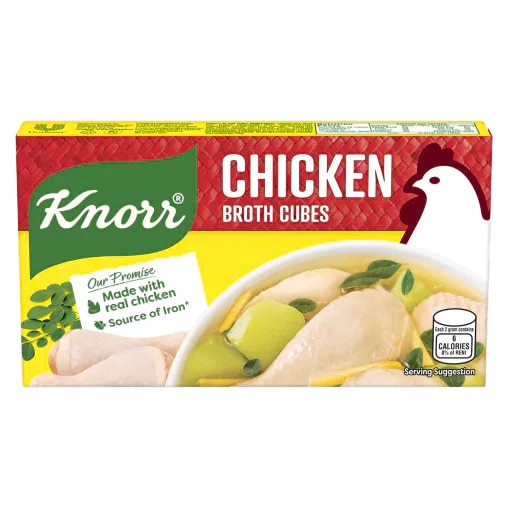 2 tbsp olive oil
5 cloves garlic, sliced thinly
1 pc white onion, sliced thinly
1 small pc red bell pepper, deseeded and sliced into thin strips
1 small pc green bell pepper, deseeded and sliced into thin strips
200 g chicken breast fillet, sliced into thin strips
1 pc Knorr Chicken Cube
pinch of Spanish paprika
pinch of cumin
pinch of ground black pepper
flour tortillas
1 cup grated quick-melting cheese
sour cream
hot sauce
salsa
How to Cook Quesadillas
Step 1
Heat oil in a pan over medium-high flame. Sauté garlic, onion, and bell peppers for 1-2 minutes or until fragrant.
Step 2
Add chicken strips. Crumble Knorr Chicken Cube into mixture. Toss to combine.
Step 3
Season with paprika, cumin, and pepper. Sauté until cooked through.
Step 4
Assemble the quesadilla: Place one tortilla on a plate. Sprinkle grated cheese on top. Layer chicken mixture and top with more cheese. Seal with a second tortilla.
Step 5
Toast quesadillas in a dry pan over medium flame until browned and crisp. Slice into even wedges before serving. Serve hot with sour cream, hot sauce, and salsa.
It's that easy to make chicken quesadillas at home! No need to order from your favorite Mexican joint. You can even add scrambled eggs and bacon for a breakfast version. Going meat-free? Replace the chicken with cooked black beans to get your protein fix. Need to sneak more veggies into your daily meals? Go for corn, sweet potatoes, and lettuce. For more crave-worthy Mexican recipes, try this hearty macaroni pasta or these tacos with Pinoy flavors.