Few soups are as essential to cold weather survival as the humble mushroom soup. Creamy, hearty soups like this one are pure comfort – and with the right additions, they can even be a complete meal. In this recipe, you'll transform a packet of cream of mushroom soup into a filling, well-rounded dish packed with protein and veggies.
Soups are the best thing to whip up when you don't feel like committing to anything too complicated. Their convenience is unmatched. Simply throw your ingredients into one pot, let simmer, and wait for everything to become tender and flavorful. When your soup is ready, you only need a big bowl and a spoon to eat it up. You can even enjoy it while bundled up in a blanket in front of the TV!.

Ingredients for a Heartier Mushroom Soup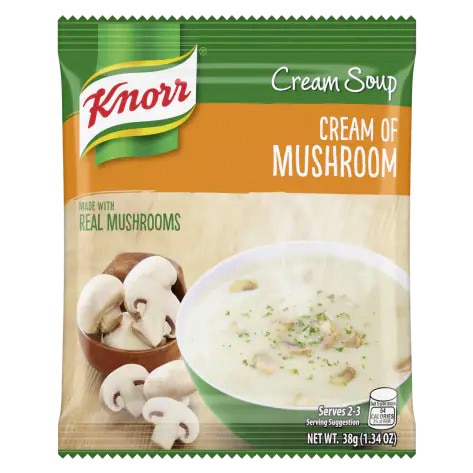 1 pack Knorr Cream of Mushroom Soup
4 cups water
½ kg chicken breast fillet, cut into cubes
½ cup corn kernels, drained
½ cup carrots, cut into small cubes
1 pc red bell pepper, cut into small cubes
1 pc green bell pepper, cut into small cubes
How to Make Mushroom Soup Into a Hearty and Filling Meal
Step 1
Pour a packet of Knorr Cream of Mushroom Soup into a pot of water. Bring to a boil while stirring. Add chicken fillet cubes and let simmer for two minutes. Add the vegetables.
Step 2
Once all the ingredients are tender and cooked through, take off the heat. Serve warm.
Top your bowl of mushroom soup with croutons for added carbs and crunch, or serve it with a slice of toast. If you can't get enough of that mushroom-y umami, feel free to add fresh mushrooms to the pot. Go for large portobellos if you're craving a meaty, chewy texture. Want a super flavor-packed option? Dried shiitake mushrooms are your best bet.
You can also turn this mushroom soup recipe vegetarian by skipping the chicken. Replace it with legumes like lentils, chickpeas, or beans, so you don't miss out on essential protein.