Pinoys are no strangers to stormy weather, with several typhoons passing through the islands each year. Unfortunately, anxiety still riddles even the most prepared individual once heavy rains pour. What's a terrific way to calm the nerves at this point? A hearty bowl of soup, specifically a tasty and nutritious serving of chicken binakol.
To the unfamiliar, a binakol recipe resembles chicken tinola. However, there's more to this dish than just a reimagination of the classic ulam. Besides the chicken, the viand's star ingredient is fresh coconut water. Not only does the buko lend a naturally refreshing taste to the broth, but it also offers a hint of sweetness to the mix.
Coconuts are also low in cholesterol, fat-free, and rich in fiber and electrolytes. The true definition of chicken soup for the soul, binakol enriches both the body and spirit. If you need something warm and comforting to weather a story, try making this Visayan specialty. Here's what you need to start.
Ingredients for Chicken Binakol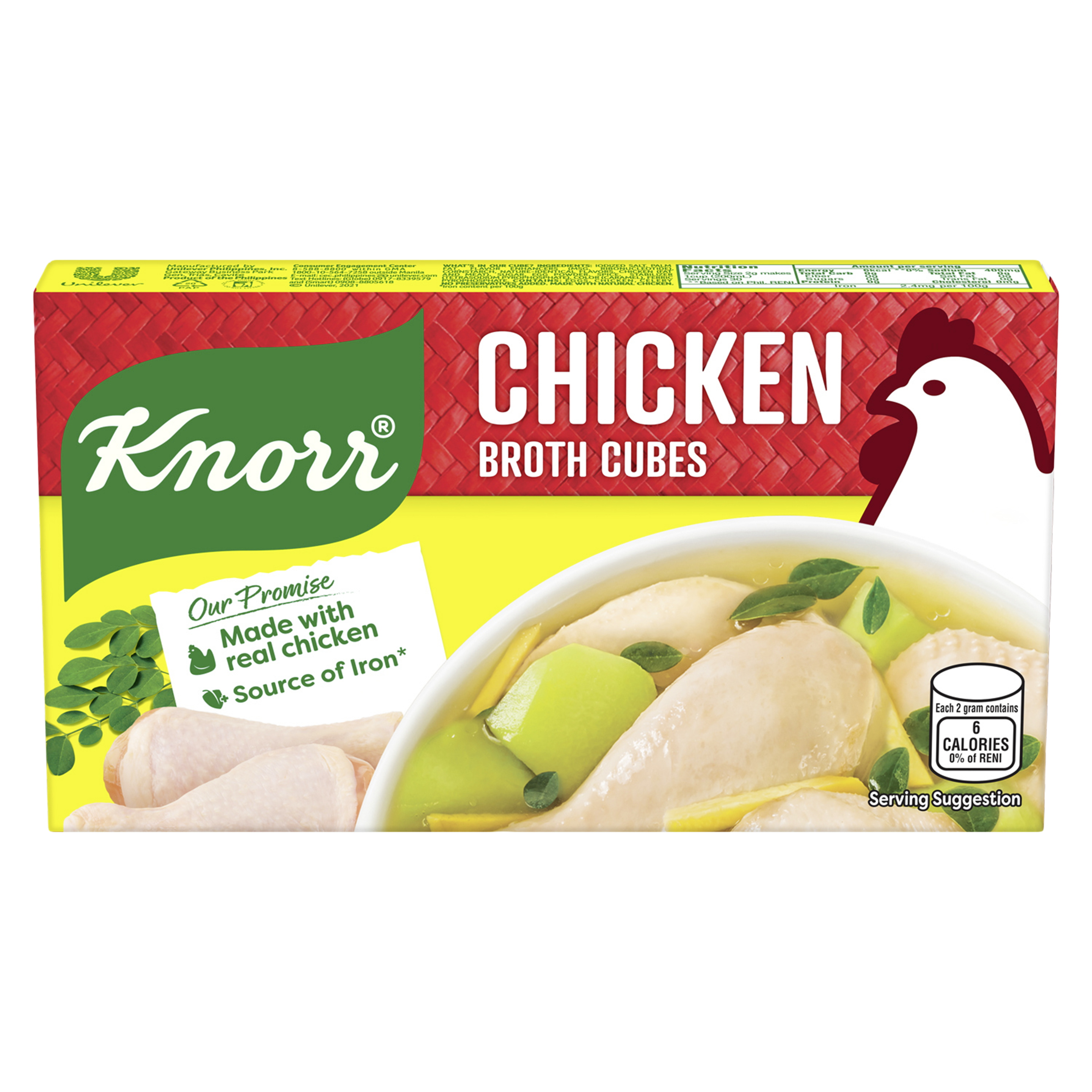 500 g chicken, cut into small pieces
1½ cloves garlic
1 tsp sliced ginger
⅓ cup green peas
1 pc medium onion, sliced
1 pc medium potato, cut into 6 pieces
1 pc medium tomato, cut into small wedges
2½ cups coconut water
¾ cup diced coconut meat
1 pc Knorr Chicken Cube
How to Cook Binakol
Step 1
Combine chicken, garlic, ginger, green peas, onion, potatoes, and tomatoes in a pot. Add coconut water and bring to a boil.
Step 2
Add coconut meat and stir in Knorr Chicken Cube until dissolved.
Step 3
Lower heat and simmer for 45 minutes or until the chicken is fully cooked. Serve hot.
Chicken binakol is simple enough even for beginners to make. To breeze through the process further, follow these tips:
Tip #1: Try native chicken.
Traditionalists prefer cooking binakol with native chicken. However, when that's unavailable, store-bought dressed chicken will taste just as impressive. But remember to include Knorr Chicken Cubes for an umami-rich broth.
Tip #2: Tenderize the meat.
The dish got its name from the Hiligaynon term "bakol," meaning "to spank or whack." The trick is to whack the meat lightly with the dull side of the knife. The motion tenderizes the chicken while allowing better flavor absorption during cooking.
Tip #3: Choose young coconuts.
When selecting the fruit, choose young coconuts as they're more tender and contain more juice. In a pinch, bottled coconut water is a terrific substitute. Although recipes call for coconut meat, you can skip it when unavailable.
Tip #4: Present it creatively.
Don't throw away those fresh coconut shells. Instead, use them as decorative serving bowls when guests come over. Give the shells a quick rinse and pour in the hot soup. Watch as eyes light up when you serve the soup at the table.
Rain or shine, binakol is a heartwarming soup with countless health benefits. Take this chance to finally cook the dish! Make this one-pot wonder for your family or double the recipe and share with neighbors.