It's tradition for Filipino Catholic devotees to attend Simbang Gabi masses in anticipation of Christmas. And part of the custom is indulging in warm native snacks right after. You can choose between puto bumbong or bibingka and pair it with tsokolate or black coffee – terrific treats for waking up in the wee hours. You can get them from sidewalk stalls outside the church, but that usually requires waiting and queueing. So why not make them yourself? Do you think you're up for the challenge? Start with this bibingka recipe.
Did you know it only takes about half an hour to whip up this classic rice cake? Plus, you don't need coals or an old-school clay oven anymore; even your toaster oven will do! You can already prepare the cake base the night before, store it in the fridge, and then bake it once you get home. That might take even less time than navigating through the thick after-church crowd.
Consider learning this native bibingka recipe as a special gift you can give yourself this Christmas. You deserve it!
Ingredients for a Bibingka Recipe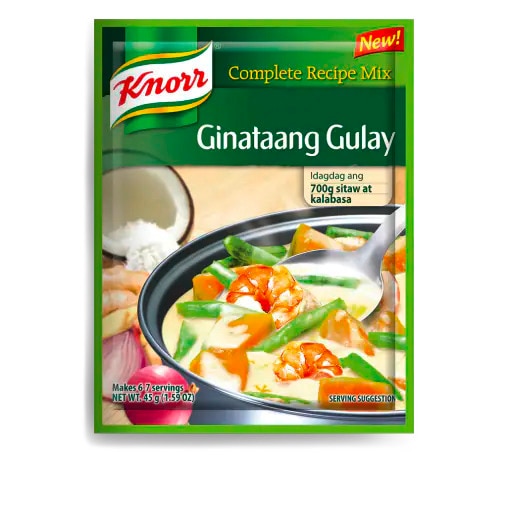 1 cup glutinous rice flour
2½ tbsp baking powder
¾ cup muscovado sugar
3 tbsp butter
1 (33-g) pack Knorr Ginataang Gulay Mix
1 cup water
3 pcs whole eggs
¼ cup fresh milk
salted egg, sliced
cheese, sliced
butter or margarine, softened
niyog
sugar
How to Cook Bibingka
Step 1
Sift flour and baking powder into a bowl. Set aside.
Step 2
In another bowl, whisk sugar and butter until smooth. Set aside.
Step 3
Dissolve Knorr Ginataang Gulay Mix in water. Bring to a boil. Lower heat and simmer until thick. Let mixture cool.
Step 4
Beat eggs in another bowl. Add milk and cooled gata mixture.
Step 5
Combine dry and wet ingredients. Mix until smooth.
Step 6
Transfer mixture to a greased baking pan lined with banana leaves. Bake in a preheated 390°F (200°C) oven for 10 minutes.
Step 7
Remove from the oven. Top bibingka with salted egg and cheese. Cover with a banana leaf, then bake for 5 more minutes. Spread butter on top and serve with niyog and sugar.
Despite its modern coal-free approach, this bibingka recipe still retains that nice smoky flavor. How? The secret is in using fresh banana leaves! Use some to line your baking pan and to cover your bibingka while cooking. That will give you that distinct aroma without the hassle of cooking with uling. And remember: do not replace the glutinous flour with the all-purpose kind. That will only give you a crumbly texture, like in tasty pies and empanadas. Follow this guide to a tee to perfect your much-deserved holiday treat.