Sinigang na manok is a Filipino favorite you can always count on to delight and comfort your family. It's not as heavy as its pork and beef counterparts but it promises the same soothing linamnam. Plus, it takes less time to prep – no need to wait for your meat to tenderize. But if you want to surprise your loved ones with something extra special, try a different cooking method. In this recipe, you'll learn how to cook sinigang na manok in the oven.

Instead of simmering the chicken in the sour soup, you'll marinate the cuts in sinigang mix before roasting. But like classic sinigang, this dish comes together in a single vessel, and you can leave it alone to cook while you tidy up in the kitchen. How convenient is that? Gather your ingredients for this one-of-a-kind chicken featuring crisp, golden skin and ultra-soft, juicy meat.
Baked Sinigang na Manok Ingredients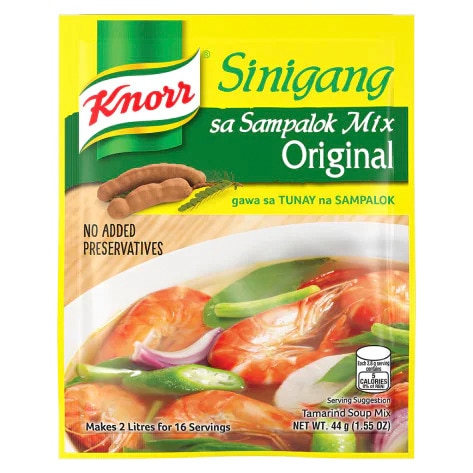 1 whole chicken, cut into 8
1 (40-g) pack Knorr Sinigang sa Sampalok Mix Original
¼ cup Knorr Liquid Seasoning
ground black pepper
3 pcs medium potatoes, cut into wedges and seasoned
3 pcs tomatoes, quartered and seasoned
1 stalk lemongrass, white part pounded
1 pc lemon, sliced into rounds or wedges
2 tbsp chopped fresh oregano (or ½ tsp dried)
Asim-Kilig Sinigang na Manok Recipe
Step 1
Place chicken in a heavy-duty, food-grade plastic bag. Add Knorr Sinigang sa Sampalok Mix Original, Knorr Liquid Seasoning, and pepper. Massage chicken to coat each piece in the mixture. Chill for 1 hour.
Step 2
Transfer marinated chicken, potatoes, tomatoes, and lemongrass to a baking dish. Squeeze lemon juice over the chicken and vegetables, then toss in the squeezed rind. Sprinkle oregano on top.
Step 3
Bake in a preheated 350°F (175°C) oven for 30-40 minutes or until the chicken cooks through. Serve hot.
This baked sinigang na manok is only one of many creative dishes you can make with a Knorr asim-kilig sinigang mix. Try using the mixture in your fried chicken coating next. Or how about in easy, stir-fried chicken rice? Missing the medley of veggies that come with traditional sinigang? Pair your baked chicken with a side salad tossed in a zingy vinaigrette – of course, made with a sprinkle of sinigang mix. Your sour-loving taste buds are in for a treat!