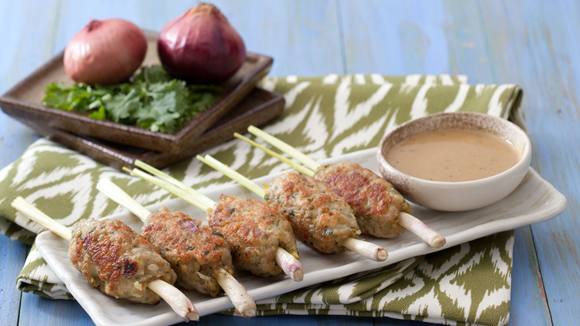 Chicken in Lemongrass Sticks with Chili Peanut Sauce
This Thai recipe combines the fresh flavors of chicken infused with Knorr flavors, grilled on lemongrass stick and served with peanut sauce.
20 MINS

Cooking Time

Easy

Difficulty

20 MINS

Prep Time

4 People

Serves
¼ kg ground chicken
1 tbsp Knorr Liquid Seasoning
¼ tsp ground black pepper
2 tsp all purpose flour
2 tsp oil for grill pan
8 pcs lemongrass sticks (white portion only)
For the paste:
½ pc red onion, cut into quarters
1 tsp ginger, chopped
2 cloves garlic
¼ cup cilantro or wansuy
1 pc red chili
2 tbsp oil
For the sauce:
1 tbsp oil
1 cup water
½ pc Knorr chicken cube
3 tbsp Lady's Choice Creamy Peanut Butter
1 tsp Knorr Liquid Seasoning
Begin by making a cocktail sized style pattie, about 2" long by combining ground chicken, Knorr Liquid Seasoning, pepper and flour altogether.

Next, make the paste by throwing all the paste ingredients in the blender or food processor until you come up with a smooth paste consistency. Now, divide this paste mixture into 2, adding the first half to the ground chicken while reserving the other half for the sauce.

Mold the ground chicken mixture and the paste together and place them onto the lemon grass sticks. Form and shape the patties into 2 inch logs then store them in the chiller for at least 5 minutes to hold their shape.

Prepare the peanut sauce by cooking the remaining paste in a hot pan with a tablespoon of oil. Pour the water, Knorr Chicken Cubes, and peanut butter in. Lastly, flavour it with Knorr Liquid Seasoning.

Now, it's time to get your grill pan nice and hot and brush it with a little bit of oil to prevent the chicken from sticking. Cook the chicken over medium heat until you get a nice browning on the outside. Serve this with the peanut sauce.

Bring Thai food straight to your home. With Ground Chicken in Lemongrass Sticks, you can't help but love your mom for it.
Want tailored recipes, tips and tricks, and product news?
Tell us your cooking preferences and we'll do the rest.