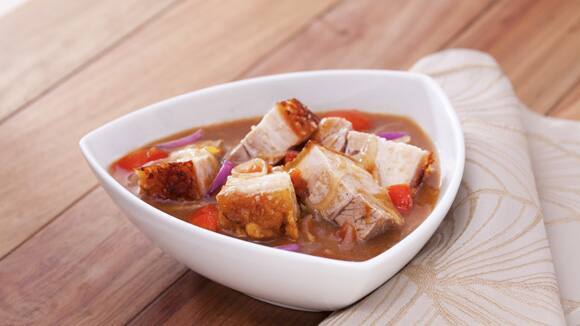 Bagnet with KBL Sinigang sa Sampalok Recipe
This dish combines the rich flavor of Ilocos style salsa made of kamatis-bagoong-onions with the filipino classic pork bagnet cooked in tamarind broth.
60 MINS

Cooking Time

Easy

Difficulty

20 MINS

Prep Time

6 People

Serves
For bagnet:
2 kilo pork belly (ask your butcher to cut 2" thick cubes)
1 whole garlic, peeled and minced
1 whole onion, peeled and cut into 4
1/2 tbsp peppercorns
2 tbsp salt
1 bay leaf
cooking oil for deep frying
For KBL (kamatis-bagoong-lasones/onion) Sinigang sauce:
10 g (1/2 pack) of Knorr Sinigang sa Sampalok mix
1 tbsp corn starch (dissolved with hot water)
3 pcs tomatoes sliced into cubes
2 tbsp bagoong balayan
1 whole onion, peeled and cut thinly (julienned)
1/2 litre 1/2 Liter Knorr Pork broth (dissolve ½ pc. Knorr Pork Cube in ½ L of water)
Knorr Liquid Seasoning
salt and pepper to taste
This recipe is divided into 2 parts. First, you need to make the Bagnet and second, the sauce.

First, you need to thoroughly clean the pork belly and then prepare a deep pot where you can sauté the garlic and onion together. When the garlic is slightly brown and the onion is translucent, place the pork belly in and fill the pot with water covering the meat. Throw in the bay leaf, salt and peppercorn now. Bring this to a boil then lower the heat to a simmer for about 30 minutes. Now, don't forget to remove the scum floating on top. They are the impurities found on the meat. Now, with the use of a strainer or colander, drain the pork belly and pat it dry with the paper towel after pricking the skin with a fork.

Gently deep-fry the pork belly at a low temperature until slightly browned. Set this aside and leave it to cool down at room temperature before storing in the chiller overnight.

The following day, fry the pork belly at high temperature until golden brown and crispy.

Moving on to the KBL Sinigang sauce, you'll need a pan where you can briefly sauté the onion and tomatoes. Now, pour in the Knorr Pork broth and Sinigang broth in before adding the bagoong balayan and fish sauce.

Thicken the sauce with cornstarch mix and stir until you get a smooth consistency. Give this a few sprinkle of Knorr Liquid Seasoning, salt and pepper and this dish is done.

Bagnet with KBL Sinigang sa Sampalok Recipe will linger in your stomach and mind once you've tried it. It's simply delicious!
Suggested recipes
1 H 30 MINS

Easy

10 MINS

4

people

60 MINS

Easy

15 MINS

4

people

15 MINS

Medium

10 MINS

4

people
cookTime

difficulty

prepTime

servings

people
Want tailored recipes, tips and tricks, and product news?
Tell us your cooking preferences and we'll do the rest.