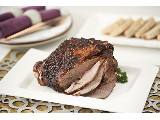 Traditional Roast Goat or Lamb
Roasting your goat or lamb meat keeps it juicy and succulent. Try out our recipe.
1 H 40 Minutes

Cooking Time

Medium

Difficulty

10 Minutes

Prep Time

4 People

Serves
Leg of goat or lamb, bought whole
3 cloves garlic, cut in half
KNORR beef cubes, crumbled
Ground paprika
Cayenne pepper
Coarse black pepper
Chilli flakes
Fresh thyme, chopped
Sugar
Oil
In a bowl, mix the crumbled KNORR beef cubes, paprika, cayenne pepper, coarse black pepper, chilli flakes, chopped thyme and oil.

Take the leg of lamb and pierce holes over its surface.

Push pieces of garlic into the holes.

Place the lamb roast in the bowl of marinade and leave for 1 hour.

Place the marinated lamb onto some tin foil, pour the remaining marinade over, wrap it closed and roast in the oven at 180 degrees Celsius for 1 hour or on an open fire.

Serve with chips or salad or yam.