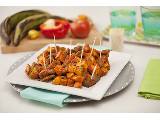 Gizzard and dodo make a great mix for a yummy appetizer.
45 Minutes

Cooking Time

Medium

Difficulty

20 Minutes

Prep Time

4 People

Serves
2 large plantains, peeled and cubes
Gizzards
Blended chilli, tomato, red pepper mix
KNORR chicken cubes, crumbled
Blended tomato, red pepper and chilli mix
Medium curry powder
Fresh thyme, chopped
Oil
Place a pan n medium heat, add the cleaned gizzards, 8g KNORR chicken cube, thyme, 125ml of water and cook until soft.

Cut the plantain into cubes.

Heat the oven to 180 Degrees Celsius, and place the drained cooked gizzards and the plantain on an oven tray. Drizzle with the oil and cook for 30 minutes.

In a pan, cook the blended tomato, pepper chilli mix with 8g of KNORR chicken cube and the curry for 5 – 7 minutes.

Add the cooked gizzards and plantain, and serve on a platter with toothpicks or with rice.

This can also be added to yam porrdige.